Spellchecking technology is frankly lacking. While it's good for spotting unambiguous errors, it's less effective in identifying spellings whose correctness varies based on context. This can be especially problematic when an author works with two variants of the same language that use somewhat different spelling conventions.
Typical spellcheckers have a regional dialect associated with them—for example, British or American English—and mark other regional spellings as errors. On top of that, publishing houses and editors may also have their own idiosyncratic preferences within a given regional dialect.
This problem pops up reasonably often with writers whose preferred spelling conventions aren't captured properly by a spellchecker, or who need help identifying which spellings belong to which variant.For example, English spelling standards can be broadly split into two categories: American, and what I call "Ecumenical." Ecumenical English spellings tend to resemble British spellings for a few classes of words—namely, words whose spellings follow the pattern of colour, honour, travelling, and defence—though some variation exists between individual written dialects. Moreover, both regional spellings may be allowable within a dialect depending on how they're used; for example, "program" and "programme" are both allowed in British writing. A typical British spellchecker lets "programme" and "program" though without flagging either of them, even though there are distinct rules for both. "Program" is restricted to computing contexts, while "programme" refers to TV shows, government projects, and anything else that's not computer-specific.
Spellcheckers should behave more like grammar checkers when checking for words whose spelling varies based on context. Variable spellings aren't mistakes and shouldn't be treated as such.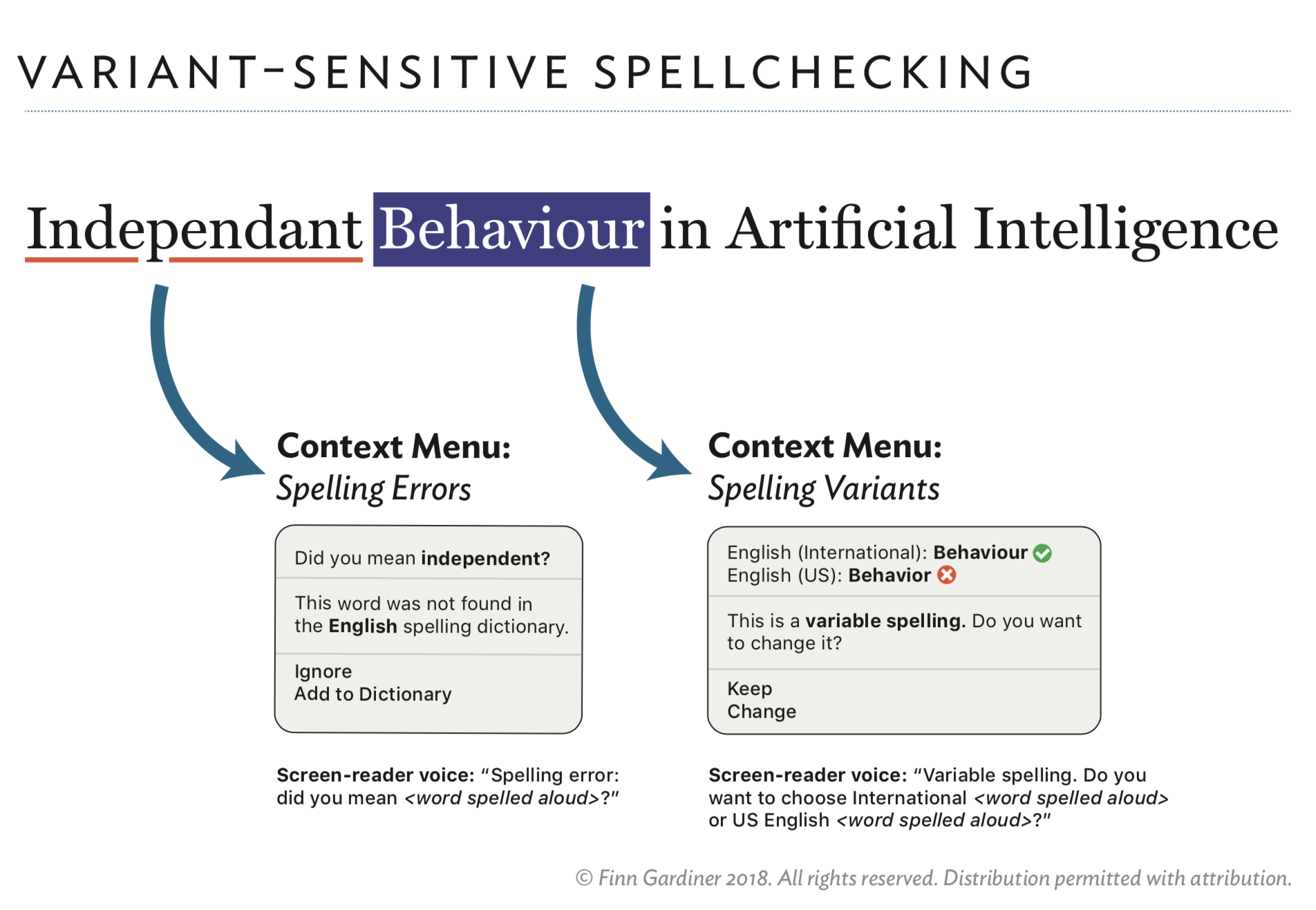 Note that this mockup distinguishes between the obvious error, "independant," and "behaviour," a spelling that varies depending on the dialect being used. "Independant," which is always a mistake, uses the traditional red underline, while "behaviour" is highlighted in a contrasting colour. The contextual menus change, too; right-clicking on a marked error will show spelling suggestions, while variable spellings will provide context and allow the user to make a choice between two correct options, each labelled with the region, style manual, or user-selected preferences they're associated with. Of course, variant-highlighting mode can be turned off if users don't want words that are always correct for them highlighted, just as any other spellchecker can be disabled.
A context-sensitive spellchecker would obviate the need for distinct spellcheckers for different English variants. Grammarly comes close, but it still uses separate dialect settings (British, American, Australian, and Canadian English) and struggles to disambiguate between regional vocabulary variants.
Of course, this wouldn't be limited to English; this hypothetical spellchecker could work for different languages, too, especially when vocabulary is included along with spelling. For example, if you speak Walloon/Belgian French and are writing a document geared towards an international French-speaking audience, the checker could highlight regional expressions like septante and nonante and indicate that they're regionalisms that may need to be changed to soixante-dix and quatre-vingt-dix, the typical French words for seventy and ninety. The same applies to German and its spelling reforms: is the German for "that" spelled dass or daß?
Here are some contexts in which a context-sensitive, but region-neutral, spellchecker would be helpful:
People who work on within-language software localisation need to change spelling, vocabulary, and punctuation to target a particular region. If someone is converting American to British English, all the variant spellings will be highlighted to prevent the appearance of stray Americanisms in the final British localisation.
It would encourage developers to create multiple English-language localisations instead of assuming that American standards are neutral or universally acceptable, since any US spellings they use would be treated as the regionally marked variants they are. The reminder that more than one option exists may push them to create multiple versions that can be mostly maintained automatically without hiring translators for small spelling, vocabulary, and punctuation changes.
Some people who have been exposed to multiple standards may confuse them in their personal writing. Context-sensitive spellcheckers allow them to decide on a convention and stick to it without treating the other standards they know as erroneous.
Writers who use a specific style guide will be better able to adhere to the stipulated guidelines without going through the trouble of creating an exclude dictionary in Microsoft Word. Not all operating systems or applications have exclude dictionaries, either.
If a language has recently adopted a spelling reform, a context-sensitive spellchecker can help writers edit their work to adhere to the new reforms.