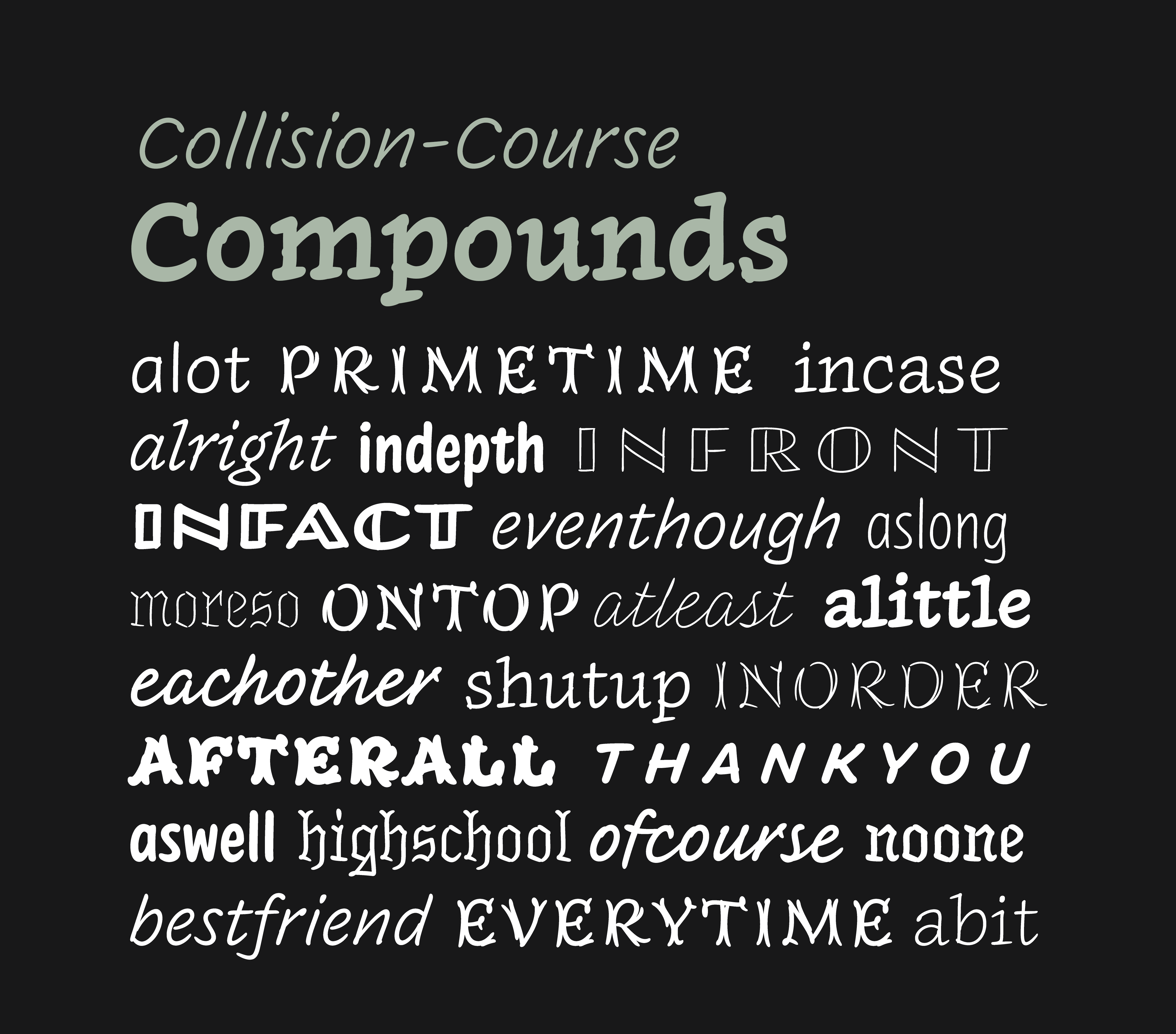 Both novice and professional writers struggle with word-boundary errors. A common spelling mistake is to turn two-word phrases like at least and of course into Frankenstein's monsters: atleast and ofcourse. Some of these errors are well known—the notorious nonwords alot and alright come to mind—but others, such as everytime, eachother, and aswell, are common in blog posts, social-media statuses, and personal emails. Based on an independent qualitative study I've conducted over the course of six months, the most frequent collision-course compounds are abit, alot, alright, aswell, atleast, eachother, everytime, incase, infact, and infront.
Avoid the following collision-course compounds—yes, even alright—if you want to preserve your credibility as a writer. I've bolded the incorrect spellings; the correct spellings are in parentheses after the mistaken versions.
Based on an independent qualitative study I've conducted over the course of six months, the most frequent collision-course compounds are abit, alot, alright, aswell, atleast, eachother, everytime, incase, infact, and infront.
abit (a bit) Abit is not a word. Use a bit.
afew (a few) A few is always two words. Afew, on the other hand, sounds like a sneeze.
afterall (after all) Overall is one word, but after all isn't.
alittle (a little) The rampant use of alot has given rise to similar fake compounds like aload, afew, and alittle. A little is two words.
allday (all-day or all day) All day is always two words (either spaced as an adverb phrase or hyphenated as an adjective in front of a noun), just like all right and all sorts.
aload (a load) This faux word is yet another one of alot's offspring. A load is two words.
alongwith (along with)
alot and allot (a lot) The standard spelling for the phrase meaning "many" is a lot, two words, although alot appears frequently in unedited writing. In fact, alot appears online more frequently than any other collision-course compound. It's still wrong. Allot means to distribute. Where alot is found, alright, ofcourse, and eachother are likely to appear.
alover (all over) Alright has spawned even more collision-course compounds, including alover, alaround, and alsorts. The expression all over, as in "all over the place," is two words. Alover looks as though it should mean "a lover." All-over is the adjective form (e.g., "an all-over print"), although some dictionaries list allover instead. Regardless, all over always has two Ls.
alright and allright (all right) Alright is not all right. The overwhelming majority of usage experts and style manuals recommend using all right—two words, two Ls—and avoiding alright and allright. Alright appears primarily in unedited, poorly edited, and informal writing, typically out of ignorance. Ignore anyone defending alright; most alright apologists don't write well anyway. In reviewing online postings (forums and story archives in particular), I noticed that the strongest writers leant toward the standard all right, regardless of their age or location.
alround and alaround (all round and all around) Alround and alaround are to alright as alittle and abit are to alot. All around and all round are two-word phrases as adverbs and are hyphenated (all-around and all-round) when they're directly before a noun. Allaround and allround are wrong, too.
alsorts or allsorts (all sorts) Like all right and all around, all sorts is two words. Liquorice Allsorts is a brand name.
anyday (any day)
asif (as if)
aslong (as long)
asmuch (as much) Inasmuch is a word, but asmuch on its own isn't.
asoon (as soon)
aswell (as well) Aswell is a surname; as well is a two-word phrase. Aswell seems more common in Britain, Australia, and Ireland than it is in the United States or Canada, but I've still seen Americans and Canadians writing it. Regardless of where you live, though, there is no such word as aswell.
atlast (at last)
atleast (at least) At least is always two words, though many people are under the impression that it's atleast. This error is surprisingly common.
bestfriend (best friend) Teenagers on Instagram and TikTok may think bestfriend is a word, but it's not.
boardgame (board game) A lot of people treat this as a one-word compound, but dictionaries still list "board game" as two words.
carpark (car park)
datacentre and datacenter (data centre or data center)
dataset (data set) This is properly two words, though it may become a solid one soon.
deadend (dead end)
eachother (each other) Each other is always two words. If you see people on social media spelling it eachother, they're doing it wrong.
eventhough (even though) Although is one word, but even though is two.
everynight (every night)
everytime (every time) One of the most frequent collision-course compounds. Sometime and anytime can be one word, but every time is always two words.
filesystem (file system) This is still two words for now.
floorplan (floor plan) Some people spell this phrase as one word, but it's not yet recorded in most dictionaries. Stick to the two-word version for now.
gameshow (game show)
golfball (golf ball)
goto (go to)
highschool (high school) Many high schools have failed to teach their students that high school is two words, not one.
highstreet (high street) Like high school, high street is two separate words.
icecream (ice cream) Ice cream is delicious, but icecream doesn't exist.
inbetween (in between) In between is two words.
inapp (in-app) You can make in-app purchases, but to use inapp is inapt for any kind of writing.
incase (in case) In case you missed it, this expression is two separate words. Infact and infront aren't words, either.
incharge (in charge)
indepth (in depth)
infact (in fact) Infact is not a word, despite what many people think.
infront (in front) In front is two separate words, no hyphen necessary.
ingame (in-game) You can make in-game purchases, but not ingame ones.
inorder and innorder (in order)
instore (in store or in-store)
middleschool (middle school) When you're in middle school, you should learn that it's separate words.
moreso (more so) More so is always two words.
neverending (never-ending) The film may be The NeverEnding Story, but the standard term is never-ending, two hyphenated words.
nevermind (never mind) Unless you're referring to Nirvana's famous album, never mind is two words.
nomatter (no matter)
noone (no one) No one is two words. Some style manuals also allow the hyphenated no-one, but under no circumstances is the pronoun noone.
notime (no time) Notime is not a word; it's two.
ofcourse (of course) "Ofcourse" sounds like a character from The Handmaid's Tale, but the expression of course is written as two separate words.
ohwell (oh well)
ontop (on top) On top is always two words.
otherside (other side)
otherway (other way)
outloud (out loud) Aloud is one word, but out loud is two.
peanutbutter (peanut butter) This tasty condiment is spelled with two words, not one.
primetime (prime time) Primetime isn't ready for prime time, at least not as a noun. While some spellcheckers pass primetime, it's not a standard spelling.
seabass (sea bass) The annoying fish on Animal Crossing is a sea bass, not a seabass.
showtunes (show tunes) Showtime is one word, but showtunes and gameshow are not.
shutup (shut up) This is never one word.
Superbowl (Super Bowl) There is no such sporting event as the "Superbowl."
thankyou (thank you) Thank you is two words, not one.
upto (up to) Upto is not a word.
videogame (video game) Video game is still two words, not one.
The phenomenon isn't limited to English, either; Spanish has a number of collision-course compounds, too, including almenos for al menos (equivalent to atleast for at least), deacuerdo for de acuerdo (similar to alright and allright for all right), and porsupuesto for por supuesto (equivalent to ofcourse for of course).
Sources
The Associated Press Stylebook, 2021.
Geoff Barton, "Geoff Barton's 30 Essential Tips on English Usage for GCSE Grade C or Higher."
Paul Brians, Common Errors in English Usage.
Gill Elliott et al., "Variations in aspects of writing in 16+ English examinations between 1980 and 2014."
Robert Hartwell Fiske, Robert Hartwell Fiske's Dictionary of Unendurable English,
Bryan A. Garner, Garner's Modern English Usage, 4th edition
John Grimond and Ann Wroe (eds.) The Economist Style Guide, 2018
Bill Walsh, Yes, I Could Care Less.
Ben Yagoda, How to Not Write Bad.