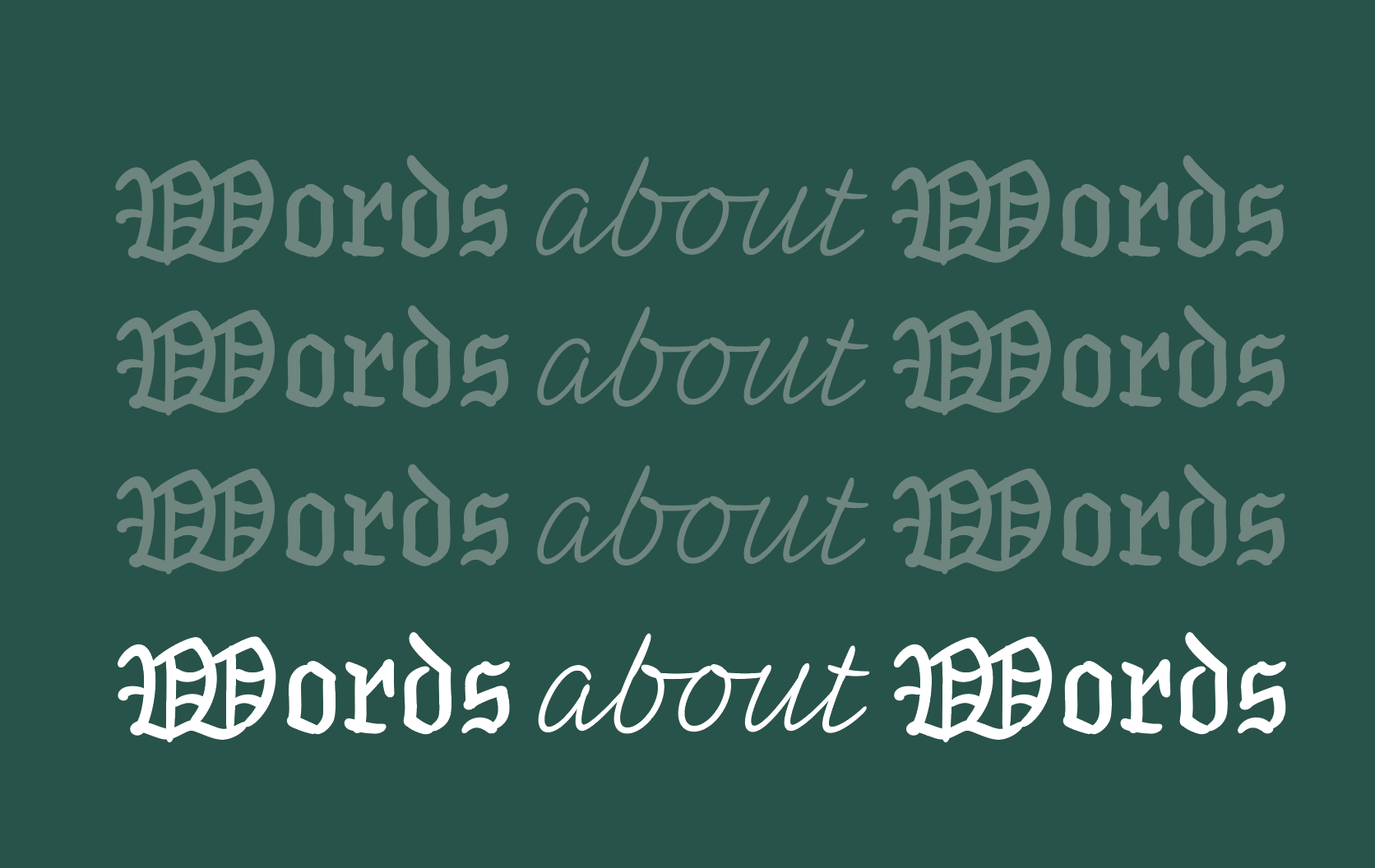 I have opinions about language. Here's a nonexhaustive list.
---
Accouterments. Admittedly, I dislike the entire concept of American spelling, but Webster's changes are too entrenched to be jettisoned entirely. We can, however, safely reject accouterment, a needless variant that has never predominated in any English dialect.
Alot and alright. A lot of people use these, but their spelling isn't all right. You may wonder why I've spent so much time on these unholy mash-ups of a lot and all right, but at least one writer has dedicated an entire book to ain't.
Doubtless because anti-peevers have made alright their darling, I've come to despise this "one-word travesty."1 It's a contractual obligation for anti-peevers to write apologias for it, and I groan every time I see one of them defending this hideous collision-course compound. I suspect the proliferation of alright in rock, pop, and hip-hop lyrics leads them to think that misspelling all right will grant them some kind of coolness by association. No, writing alright doesn't make you look cool; it just shows that you can't spell a common phrase. The cool kids won't notice, and they'll still think you're a dork.
Alright is cheap, plasticky, ephemeral; all right, in contrast, is solid, substantial, real. Alright is Arial; all right is Helvetica. Alot, on the other hand, is Comic Sans or Kristen ITC. A lot would be something like Candara—relaxed and casual, but not crass.
I won't say that alright isn't a word: it is, but it's not a very good one—in fact, it's a nonword. Nonwords are technically words, but they have no reason for being. 2 Other such words are alot, irregardless, and thusly.
Regard with suspicion any usage pundit who endorses—or worse, uses—alright. And if they defend alot, their advice is worthless.
If I had a dollar for every time someone claimed erroneously that alright was now standard, I'd be rich. The 2019 Google ngram data show that all right still predominates in printed books. In fact, the gap between all right and alright is the widest it's been—there were more alright instances for every all right in the Seventies than there are now. There are more absolute alright instances than there were in the Seventies, but the proportion of alrights to all rights has decreased dramatically, since there are more absolute instances of the standard all right, too. There's a slight dip in all right toward the end, but tonight, a lot, and today also decline at the same point on the graph without a corresponding rise in to-day, alot, alright, and to-night. (Perhaps there were fewer data available for 2018 and 2019.) Editors have been open to other compounds, such as today and underway, but alright just hasn't caught on:

2019 Google ngram showing the predominance of "all right" in printed books

And alot is barely a blip:
Other compound words have gained more traction, such as healthcare:
The solid copyediting overtook the two-word copy editing in the Eighties:
Today overtook to-day about a hundred years ago, and tonight became predominant about a decade later:
The solidification of underway was underway by the 1950s, and the one- and two-word forms have been neck-and-neck ever since:

If I were forced to choose between ain't and alright (or alot), I'd choose ain't. Ain't comes by its folksiness honestly, but alright is an impostor. I've come to personify it as Al Wright, an oleaginous used-car salesman who won't shut up about his "great" deals. As for alot, even Sir Mix-a-Lot doesn't use alot in his handle. Even the buffoonish irregardless is useful in dialogue, but alot and alright are mere pests.
Alright is an impostor because Modern English all-compounds (like all right) generally have the full word spelled out, as in all sorts, all-inclusive and all done. Words like already come from Old English. Al- is no longer an actively used prefix. I suspect this may be why alright was derided so early on. If we are to admit it, we must also admit alsorts, alinclusive and alnight.
Alot and alright may be slang, all right, but they're not particularly good slang. Gonna and ain't sound different from their standard counterparts. Aright, arright or the African American Vernacular English aight will do if we need to transcribe a syncopated pronunciation of all right, and alot has no benefit over a lot.
I use alot and alright as a litmus test when I'm reading fiction online. If I see them, I lower my expectations accordingly.
"But as there are books that are not books, so there are words that are not words. Most of them are usurpers, interlopers, or vulgar pretenders; some are deformed creatures, with only half a life in them; but some of them are legitimate enough in their pretensions, although oppressive, intolerable, useless. Words that are not words sometimes die spontaneously; but many linger, living a precarious life on the outskirts of society, uncertain of their position, and a cause of great discomfort to all right-thinking, straightforward people." —Richard Grant White, Words and Their Use, 1882.
American spelling. Unnecessary, confusing, and often ugly, but we're stuck with it. I'd just like it not to appear where it doesn't belong; for instance, American publishers should let British spelling stand.
Around. Whatever happened to about? People are forever talking about conversations around COVID-19 policy, videoconferences around systemic racism, seminars around homelessness and unstable housing. It's less euphonious than about.
Between you and I. Downright rebarbative. Even this ungrammatical expression has its defenders—typically descriptivist anti-peevers who are determined to love all the infelicities the rest of us hate.
Business jargon. Going forward, take it offline, incentivize, synergy, scalable, best-of-breed, deliverables, knowledge translation, technical assistance, parameters, key stakeholders, capacity-building, mission-critical, operationalize, grow the business, core competencies, buy-in. Give me a break.
Canceled. Bleh. The predominant spelling in World English is cancelled, so American editors should allow it.
Company names for software products. Although Google and Facebook have company names that match their primary products, Microsoft and Adobe do not. It is therefore an error to talk about "Microsoft" or "Adobe" as though they were themselves programs. "Microsoft" typically means Windows or Microsoft Office. "Adobe" means either Photoshop or Acrobat.
Descriptivists. Many self-described descriptivists are more accurately reformers—or deformers. The encroachment of extreme descriptivist doctrine on usage and rhetoric has done both fields a disservice. Usage and rhetoric focus on the social, semantic, and aesthetic components of language, while descriptivist practices focus on aspects of language that are beneath our notice. Meaning is secondary to sound and structure, which is entirely backward—language has value only because it is a social tool that conveys meaning. Speech and writing are conscious acts, but descriptivists have deprived us of our agency, and their insistence that their practice is objectively true prevents them from being gainsaid.
By marginalising everything 'else', linguistic theory implicitly makes very strong claims which are in no way ideologically inert when they are presented as the only 'scientifically' valid way of looking at the language. For the items thus marginalised are the sine qua non of language. —Roy Harris, The Language Machine
Esthetic. A self-defeating spelling. An ugly relic of early-twentieth-century spelling deformation—I mean, reform.
The generic he. This needs to die.
Glamor. Markedly unglamorous.
Gray. This should be a name, not a shade.
I could care less. Mildly annoying.
Impact (verb) and impactful. Irritating words that smack of business jargon. "Impactful" is particularly grating.
Individuals. Often used as a overblown synonym for "people." I suspect the people who use it think, "Let's add more syllables to sound more serious!" That's if they think about it at all, of course.
Language change as an excuse for mistakes. Languages aren't static, but that doesn't mean that we must accept every nonstandard form that arises. (I'm looking at you, I could care less, between you and I, miniscule, and impactful.) We have the right to make choices about the words we use, and I refuse to say impactful.
Misused punctuation. Amusingly wrong.
The Oxford comma. I'm neutral. Sorry.
Permissive style manuals and usage guides. Neutral descriptions of usage, whether standard or not, are useful for researchers, but they're less helpful in practice. As an editor, I need to make quick judgment calls, and wishy-washy statements are unacceptable. The writers of usage guides and style manuals shouldn't shame or berate their readers; nevertheless, they should give clear guidance based on current editorial practice. (No, linguistic corpora that include error-ridden tweets, your aunt's knitting blog, and YouTube comments don't count.)
Scepter. No.
The singular they. Without question. I use it all the time.
Social-justice argot. Cisheteropatriarchy, kyriarchy, settler colonialism, problematic, erasure, bourgeois liberals, microaggressions. I agree with most of the principles, but do we need to use all this highfalutin language? Admittedly, I use some myself but avoid it when talking to people who don't have a background in queer or feminist theory.
It's especially irritating to see activist jargon mixed with management-speak, so we end up being incentivized to dismantle the cisheteropatriarchical paradigm by unpacking our settler-colonialist mindset around our role in bourgeois liberal society, and developing impactful strategies to foster inclusivity and to challenge the systemic erasure of marginalized body-minds. (And don't get me started on people who manage to use activist jargon, management-speak, and random slang and pop-culture references. OMG, like, what a mess.)
Spellcheckers. Most of them are too permissive for my tastes. I edit as part of my work, and I want to be able to spot nonstandard terms when I'm editing. I use a custom spellchecker, from which I've expunged alright, irregardless, thusly, miniscule, and incentivize.
Theater. Yuck. The -er spelling feels rough and unsuited to the medium it describes. American editors should allow theatre.
Kingsley Amis (1997), The King's English. ↩
Bryan Garner (2016), Garner's Modern English Usage, p. 630. ↩