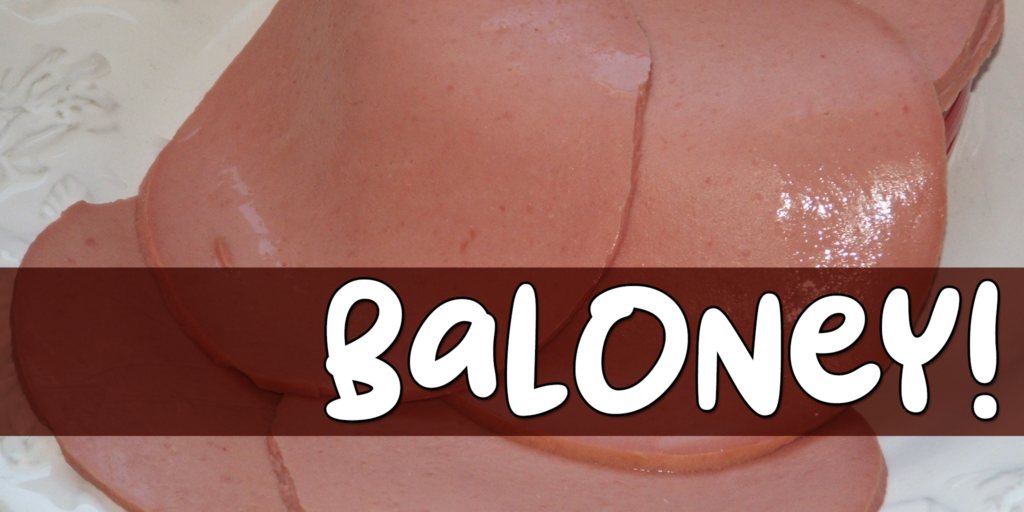 Imagine that I'm at a restaurant—Chez Snob—that purports to offer haute cuisine.1 After spending a few minutes looking through all the choices on the menu, I decide on a steak with herbed butter, duchess potatoes, asparagus, and a glass of Veuve Clicquot.
Several minutes later, the waiter shows up at my table, proudly presenting me with a bologna sandwich made with soggy Wonder Bread, off-brand American "cheese," gobs of cloyingly sweet mayonnaise, a single piece of wilted iceberg lettuce, and a tasteless watery tomato slice. Instead of the glass of Veuve Clicquot I expected, I receive a half-empty cup of grape Kool-Aid.
"Excuse me? This isn't what I ordered." The waiter shoots me a withering look, claiming that this bait-and-switch is acceptable because the restaurant adheres to the principle of "descriptive gastronomy."
"After all," he says, "most people are more likely to eat bologna sandwiches than haute cuisine."
"But, sir, that's not what I ordered. If I wanted a bologna sandwich, I would have made one at home, but I don't even like bologna. And I certainly wasn't expecting grape Kool-Aid."
"Are you trying to tell me that bologna sandwiches aren't valid food, or that grape Kool-Aid isn't a real drink? That's just a classist prejudice."
"That's beside the point. Bologna sandwiches may be food, all right, but I didn't come to your restaurant for bologna. Even if you're serving those sandwiches 'ironically,' they're not what I came for."
As the waiter continues to prattle about the merits of descriptive gastronomy and my unconscionable prejudice against bologna sandwiches, I turn tail and walk out of the restaurant, reminding myself to post a bad review online once I'm back home.
Let's imagine another restaurant: Big Momma's Bar-B-Q. Unlike Chez Snob, Big Momma's is honest. The cashier tells you that you're going to get pulled pork with tangy barbecue sauce, collard greens, coleslaw, cornbread, and baked beans, and that's exactly what you get—good old-fashioned down-home cooking, all served up in white polystyrene containers filled to bursting. No frills, no bullshit. But the descriptive-gastronomy fans conflate Chez Snob's bait-and-switch bologna with Big Momma's pulled pork and baked beans. I know what I'm getting at Big Momma's, but Chez Snob is serving junk and presenting it as fine dining.
We can extend the analogy further: picture a "descriptive" car dealership that claims to sell Ferraris and Bentleys, but the only cars on the lot are beat-up Chevrolets and Toyotas, or a "descriptive" art-supply store that sells you discount-brand markers that go dry as soon as you open them instead of the Derwent pencils you asked for, because "more people use these than Derwent products." The course description for a "descriptive" graphic-design class may promise to teach students professional techniques, but the professor decides to teach you how to make flyers in Microsoft Word instead, all set in Comic Sans, Arial, Algerian, Times New Roman, Curlz MT, and Impact. After all, regular people design flyers in Word using system typefaces.
Most people will see the absurdity of Chez Snob's bologna sandwiches or Honest John's Descriptive Dealership, but far too many think similar attitudes toward usage and grammar are acceptable. People with these attitudes have made a fetish of amateurism and mediocrity that would be unacceptable in most other fields. They claim to defend Big Momma's soul food, but they're just shilling for Chez Snob's bologna sandwiches.
Don't be hoodwinked into accepting weak writing, substandard spelling, and unsophisticated usage because of "descriptive grammar," as I was for several years. I worried that if I didn't share those views, I would be oppressive or excessively critical. Defending African American Vernacular English and other dialects from racist and classist attacks is the right thing to do, but that openness needn't extend to editorial nuisances like between you and I, alot, dining at it's best, apple's $1/lb, miniscule, ad nauseum, and your not serious. All these are the products of confusion, carelessness, and inadequate education, not distinct cultural practices and norms. Nonjudgmental research practices are no cause to denounce editorial standards simply because untrained or poorly trained writers don't adhere to them. That's just baloney.
Let's just pretend that COVID doesn't exist for this scenario. ↩