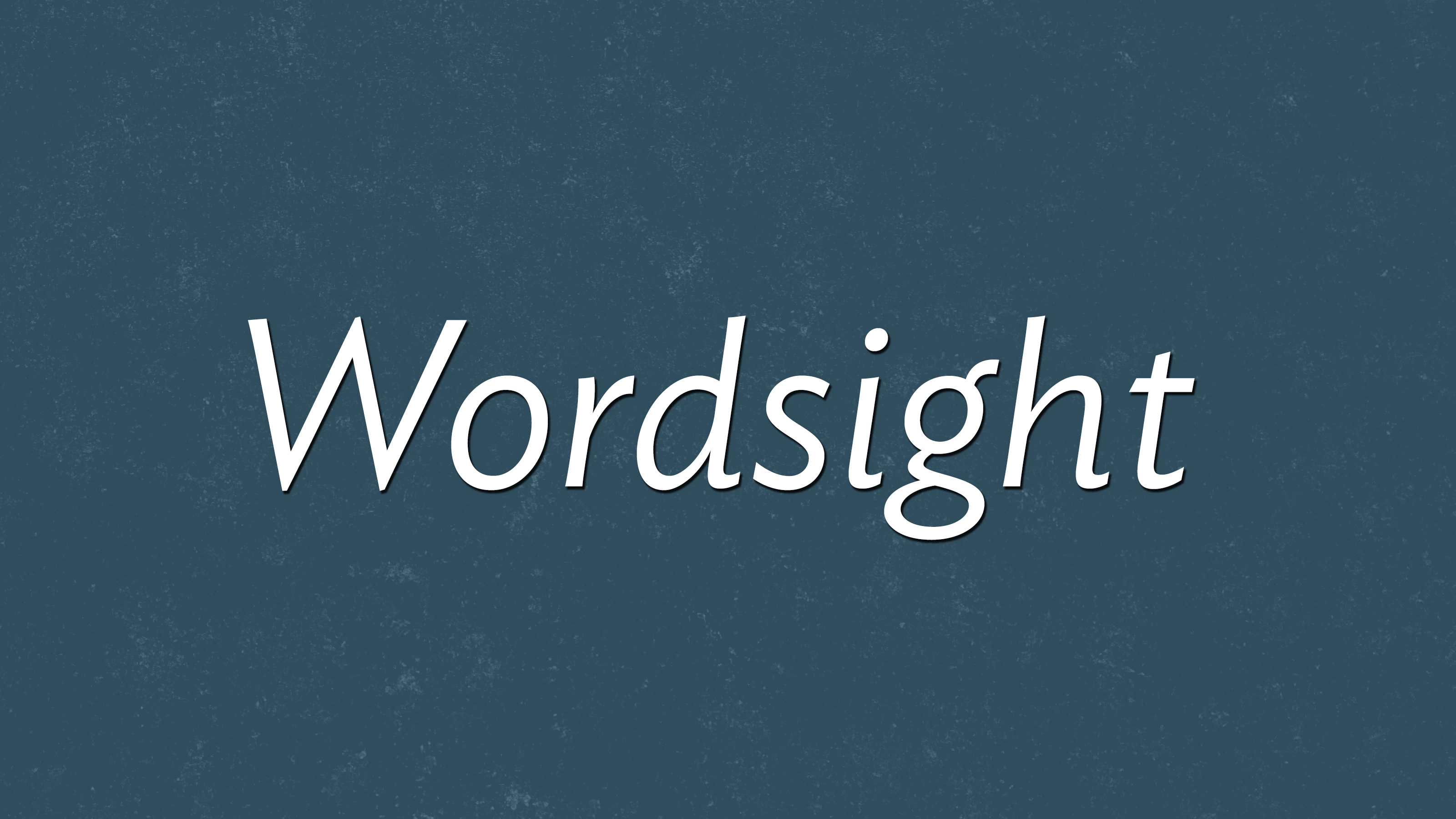 (the word "Wordsight" written on a dusty-blue background)
In a word I see the world.
Written symbols—not just words, but letters, punctuation, essays, books, numerals—have personalities, sounds, histories, friends, enemies, parents, siblings, colours, shapes, moods, textures, and rhythms; they're not just marks on a page. Eight is smug. Seven is yellowish. The letter M is a mulberry colour. Glamor for glamour is shabby. Esthetic for aesthetic is foul. COVID-19 shouts its name like a metallic-voiced Dalek; Covid-19 merely says it; covid-19 has lost its proper-noun status and is now a commonplace like flu or the common cold. The semicolon is pensive; the comma diligent and dutiful. When double quotation marks encase a full stop or comma, they look like grasping claws.
When I think in language, I think in complete written sentences; this writing usually appears as subtitles, lettering, handwriting, typography, or plain text on a screen, depending on the context. I see every word, punctuation mark, and numeral I hear. I can't listen to most hip-hop and rap because I see all the lyrics in my head, and I don't want the words to crowd out my own thoughts. Sometimes the head-text is animated, appearing in sequences like transitions on TV.
I suspect all this is a form of synaesthesia. The Germans have a word for the phenomenon: Sprachgefühl, a visceral sense of the language. For me, the Gefühl, the feeling, is very literal. But Sprachgefühl is a pair of Teutonic plates rubbing against each other. I want an English word to match an English feeling—wordsight.
When words are misspelled, malformed, or misused, I feel it: a punch in the gut, a slap in the face, the beginnings of nausea building up in my throat. Keening voices, bits of metal scraping against each other, dentists' drills, blaring sirens. "Your not coming too, are you?" Sandpaper and knives pressed into the skin, over and over again. "Save money everyday." SCREEEEEEECH! Irregardless is rocks tumbling down a cliff. Corona virus feels too loose. Core competencies, stakeholders, impactful, best practices. Thunk, thunk, thunk. The excrescent S in anyways buzzes in my ears. Context weaves itself in, as its derivation suggests: Ugh, wrong word. Did they not know better? Argh! Why don't they look it up? Do they not care? Where did they go to school? Is this a new trend? They ought to check the style manual. What are they doing? STOP IT! Ouch. Ouch, ouch, OUCH. I see words being mutilated, smashed together, torn apart, hacked to pieces, turned into Frankenstein's monsters. If I come out strongly against a word or phrase, it's probably because I can feel its repugnance in my very skin. When I'm especially sensitive, I can't even look at the word, phrase or sentence without immediately averting my eyes.
The right words, on the other hand, are old friends. "Hello there! Oh, it's you." They're a warm bath, a weighted blanket lying across my lap, a purring cat sitting next to me. To see the right words in the right places, with apologies to Jonathan Swift, is an ineffable delight. I hope always to feel that flutter of familiarity when I'm reading.
I calm myself by looking at friend-words. Seeing all right makes me feel… all right. I trust its sturdiness, the weight of a smooth stone in each of my hands. The space between the words allows for possibilities; it gives me just enough breathing room. Its second cousin, on the other hand, feels artificial, plasticky, like a false sense of security. It's claustrophobic in there. I don't feel soothed when I'm told that everything will be "alright." It feels insincere, even if the writer meant it wholeheartedly. It's nauseating, like being force-fed Velveeta, high-fructose corn syrup, genetically modified vegetable oil, or some other lab-created concoction with a chemical aftertaste. It's creepy, gooey, clingy, gloppy, cloying, inconsiderate, insistent. I can imagine a trademark sign after it. "You don't need that stuffy old All Right any more. Try new Alright™! If you act now, you can get an Alot® and an Aswell® free! That's right, an Alot® and an Aswell®! What an AMAZING offer! Call 1-888-AL-RIGHT. That's 1-888-AL-RIGHT. But wait, there's more! If you call within the next thirty seconds, you can get an Afterall™ too! That's right, folks, an Afterall™ as well—or should I say Aswell®?" It certainly doesn't feel all right. Alright—and similar nonwords like alot and irregardless—are also a reliable marker of word-blindness. Those who write them tend to have a more tenuous relationship with words and their structure; although they intend no harm, they have no idea of the pain they inflict.
Symbols, like people, can be known by the company they keep. Some tend to lurk together in murky places, avoiding the light; others are bright and gregarious. Some hang out together in dark corners; others may prefer a smart dinner party. Some are romantics who seek others of their kind; others are technicians who cannot abide the romantics' woolly imprecision. (I, for my part, try to be a romantic technician, or a technical romantic.)
I feel the difference between words that are similar, but not the same: comprise and compose, lay and lie, all together and altogether. Comprise is lighter than compose. All together is languid; altogether a little hectic. I can sometimes work out the derivation of a word by feeling it. When I think I've found a connection, I feel a little warm, but I don't let myself go warm entirely—what if it's a false etymology, a mere areal feature rather than a verifiable kinship? When I learn that the words are indeed akin, there's a frisson down my back: I've discovered part of the chain. Anglo-Saxon words are warmer, woodier, more knobbly; French-derived ones are cooler and silkier; Latin ones grandiose and haughty.
I occupy myself with spelling because in English at least, it reflects history, culture, or writers' tampering, whether inadvertent or deliberate. Our words are palimpsests, leaving traces of the influences that have come before. This is why I object so strongly to American spellings in British books: the written words' texture, shape and patterns are wrong for the rhythm of the text. To misspell a word is to call it by the wrong name.
With all this sensation, there's no wonder that I react with horror when someone expresses indifference to how symbols are used or arranged or written. "How can you not tell the difference between these two typefaces?" "And how could you use Arial when Helvetica came installed on the computer too?" "Don't you want to match the personality of your writing with the way the letters look?" "How could you spell it that way? That looks broken." "Break those words back up." "Why did you split this word apart?"
Perhaps the first creators of language knew this, too. This is part of why I look askance at hardline descriptivists; language is too metaphorical, too alive, to exist without human design. After all, language is a system of metaphors that we use to share our thoughts with others. Metaphor means to carry across, as do transfer and translation (from Latin ferre, past tense tuli, past participle latus). We carry across our meanings to one another. But when words are merely data points in a larger pattern of use, it's hard to appreciate the roles of sensation, emotion, and history. The scientist of language may see words as an object of analysis, but word-blindness will stop her perceiving their sensory effects.
Wordsight is both burdensome and fortunate, but I cannot imagine my life or career without it.