(Content warning: brief mention of the R-word)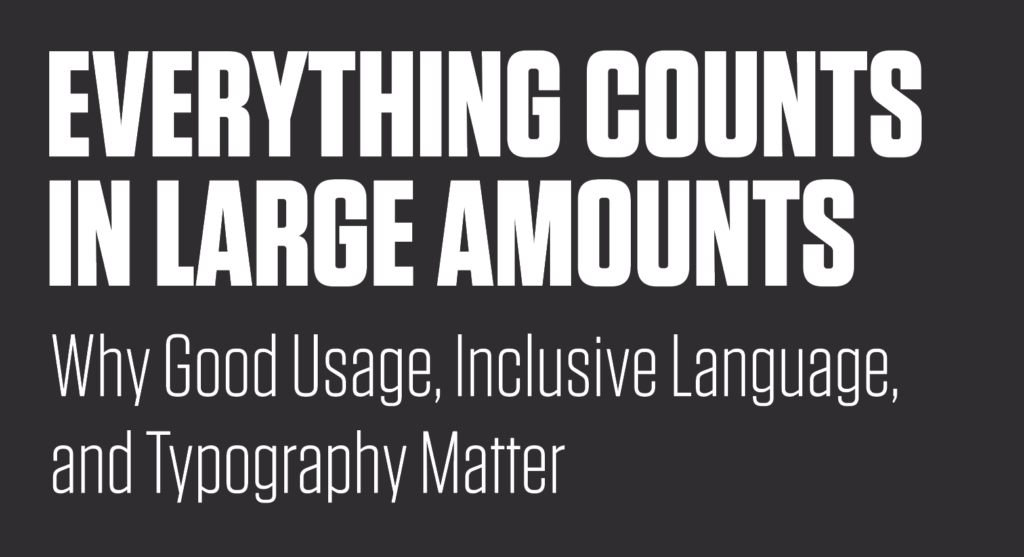 My positions on standard English, inclusive language, and good typography stem from the same principle: consideration and empathy for readers. These principles underlie everything I do: editing my colleagues' writing to make it more effective, writing plain-language summaries of research articles, using layout and design to reinforce ideas in people's minds, and listening to community members to learn how they want to be described. In this two-part series, I'll discuss why these principles matter. The first part focuses on standard English and inclusive language; the next one will focus on typography.
---
Standard English and the Anti-Peever Club
Informative writing intended for general audiences, such as policy briefs and newspaper articles, should be written in standard English. Although they may understand some forms of nonstandard English, people are less likely to be confused, annoyed, or distracted by standard spelling, punctuation, word choice, and grammar. Regrettably, some people—let's call them anti-peevers—claim that that most usage recommendations are pointless. (Anti-peevers often describe themselves as "descriptivists," but descriptive linguistics is a method, not an ideology. Anti-peeverism is assuredly ideological; it's a form of linguistic populism, not neutral descriptivism.) These linguistic populists imply or say outright that New Yorker articles and YouTube comments about chemtrails are equally "right."
Admittedly, many usage pundits do err by declaring certain usages objectively wrong. Some declarations are based on long-discredited "rules," such as the injunctions against split infinitives and sentence-ending prepositions. The continued resistance to the hypothetical singular they is excessively pedantic, as is American editors' tendency to lop the S off towards. Anti-peevers are right to spurn these "rules," but reasonable prescriptivists reject them, too.
Some anti-peevers will go even further by using or defending nonstandard expressions like alot, alright, irregardless, I could care less, and anyways. Some disputed usages, such as the singular they, deserve to be defended, but the self-contradictory irregardless and I could care less don't address the need for clear or inclusive language. Even the anti-peevers' beloved alright1 doesn't add much clarity: all right is ambiguous regardless of its spelling. Alright and irregardless mean the same things as all right and regardless but are more likely to annoy and distract for no good reason. The singular they, on the other hand, allows for more flexible and inclusive language.
Contrarian posturing is not the same as fighting oppression. Sometimes it's flashing a membership card: "I'm part of the Anti-Peever Club! I don't care about good usage, and you shouldn't, either!" At other times, it's little more than trolling. The nonstandard forms anti-peevers defend, like anyways and I could care less, are not associated with any particular class, culture, or race; they're slangy expressions that shouldn't appear in writing outside dialogue or Facebook posts. (And some of them, such as alot and alright, are just misspellings that should be avoided altogether.). Defending African American Vernacular English and gender-inclusive language is laudable, but anti-peevers' promotion of widely reviled forms is more juvenile than it is liberative. It is the verbal equivalent of teenagers deliberately choosing outfits that their parents hate: "You're not the boss of me!" Anti-peevers use language change as a shield against criticism, but the nonstandard expressions they promote are not new. Anti-peevers from generations past have made similar arguments to their modern counterparts, often about the same words.
When anti-peevers defend such misbegotten forms as alot and alright, they insult writers' intelligence, too: it's no great feat to put a space between a and lot, or all and right. Although these errors are indeed common, mere frequency does not justify their use: after all, plenty of people use it's for its. Anti-peevers also make excuses for the parlous state of writing education throughout the English-speaking world. Most people who use alot and alright don't know any better. This isn't their fault—it's the fault of the education system—but mass ignorance isn't an excuse for allowing errors and nonstandard variants to appear in edited writing apart from the creative liberties used in fiction, some forms of narrative nonfiction, and poetry. People who care—copyeditors and publishers—set the standards, not YouTube commenters, and our adherence to standard forms allows readers to focus on the message, not writers' perceived errors. When anti-peevers invoke "common usage," it's important to consider whose usage they're talking about. Are they talking about people who care about language and its use, or are they talking about people who don't write or edit for a living and don't particularly care? Why should we focus on those who don't care, rather than those who do? After all, we're the ones who will notice.
Linguistic research should be nonjudgmental, but in the real world, people do care about how others write and speak. Using nonstandard language in professional or formal settings has real-world consequences, and we all have to eat. Typos, misspellings, poorly chosen words, and punctuation errors, including disputed spellings such as miniscule for minuscule, pull readers out of your writing. It's hard to focus when your is used for you're, apostrophes are used to make words plural, and definitely is repeatedly spelled definately. People may know what you mean when you write apple's for sale, but many will notice that you misused an apostrophe and take you less seriously because of it.
In "Making Peace in the Language Wars," the lexicographer and usage pundit Bryan Garner writes: "This doctrine relieves English teachers of the responsibility to teach standard English. And it dooms us all to the dialect of the households in which we've grown up. One result is rigidified social strata. After all, you're unlikely to gain any responsible position—such as that of a linguistics professor—if you can't speak and write standard English. So much for egalitarianism."2
Garner is right—anti-peeverism is less progressive than it is libertarian, more "I'm all right, Jack" or "I've got mine, screw you" than "you do you." Most anti-peevers know the rules of standard English, even if they don't follow many of them. It is a bitter irony that the self-proclaimed defenders of popular speech are frequently white people from upper-middle-class backgrounds who have never suffered the indignity of linguistic discrimination. In a particularly egregious example of anti-peever libertarianism, Oliver Kamm, a journalist and the Oxford-educated scion of a publishing family, wrote Accidence Will Happen, a permissive "guide" to English usage that gives the seal of approval to several nonstandard usages, including a few of my bêtes noires. Those of us who came from less exalted backgrounds may have fewer excuses to use nonstandard variants lest we be thought uneducated. I did not grow up in a professional middle-class or upper-middle-class family. I work with words and ideas; my parents and grandparents did not. Kamm, however, is happy to climb the professional ladder and pull it up behind him.
The Trouble with Noninclusive Language
Anti-peevers aren't the only ones who disdain the importance of usage recommendations. Thoughtless prescriptivists will defend noninclusive language as ardently as anti-peevers defend I could care less and irregardless: hearing impaired, people with autism, the generic he. I use "noninclusive language" to refer to any terms that are biased against, outright offensive to, or rejected by marginalised people. To be clear, dismantling misogyny, racism, ableism, homophobia, transphobia, classism, and other kinds of discrimination does not start or end with language; nevertheless, changes in language often occur alongside changes in attitudes toward marginalised groups. Using inclusive language shows consideration for the people you describe.
Slurs are an example of noninclusive language, but less obvious examples also exist. For example, deaf people and people with hearing loss usually prefer deaf, Deaf, hard of hearing, or people with hearing loss, not hearing impaired, and many autistic people prefer autistic or person on the autism spectrum, not person with autism and person with autism spectrum disorder. Activists with intellectual disabilities and their allies have long deplored the use of retarded and mental retardation. More recently, anti-weight-bias advocates have highlighted the problems with some of the words used to describe larger people, especially one that starts with an O and rhymes with "fleece." Although these medical terms may not be used with the same malicious intent as outright slurs, their continued use implies that the outsiders' views take precedence over those of insiders.
Like the anti-peevers who are enamoured of irregardless and I could care less, defenders of noninclusive language care more about their agenda than they do their readers, especially if the readers belong to the groups they discuss. Like anti-peevers, defenders of noninclusive language will often cite common usage: "That's what everybody says, anyway." "You know what I mean!" "Who made you the Language Police?" "It's a free country!" "But doctors use it, so it's OK!" Again, it's important to ask yourself, "whose common usage?" What is their agenda? How do they feel about gender, race, disability, culture, or religion? Of course people have the right to say and write whatever they want, but that doesn't mean they should. Common usage isn't always the best usage.
Anti-peevers who—rightly—oppose noninclusive language are less destructive than prescriptivist defenders of noninclusive language, but both groups contradict their stated ideals. Anti-peevers do recommend, and prescriptivists do explain, and sometimes their recommendations and explanations are annoying at best and outright toxic at worst.
Drop people with autism and hearing impaired, unless the person you're writing about insists on them. Use autistic people, people on the autism spectrum, and hard of hearing: those who care will notice your consideration, and those who do not won't see the difference anyway.
What is it with these people and misspelling all right, anyway? Their constant advocacy of alright makes me even less likely to accept it. ↩
Garner, B.A. (2016). "Making Peace in the Language Wars," in Garner's Modern English Usage, p. xxxvi. New York: Oxford University Press. ↩