TimeJuggler is an app to help people on the autism spectrum with executive-functioning difficulties.
Calendar View
This is the general overview of your activities, based on the default calendar used by iOS (Android version later).
Routine View
You can create a repeating schedule that shows your daily routine. The default view shows four activities at a time with the option to scroll through the rest of the day's activities. You can give activities titles, set the frequency (daily, weekdays, weekends, specific days or ranges of days), add icons or uploaded photos for visual aids, and linked locations that you can tap to bring up a pop-up map and a link to Yelp, TripAdvisor or Google Reviews if they are available. Visual icons are especially useful for younger children, people who struggle with processing written information and people who just prefer to have visuals accompany written schedules.
The app could include built-in icons and SymbolStix, though those would require licensing images to be used within the app
Detailed View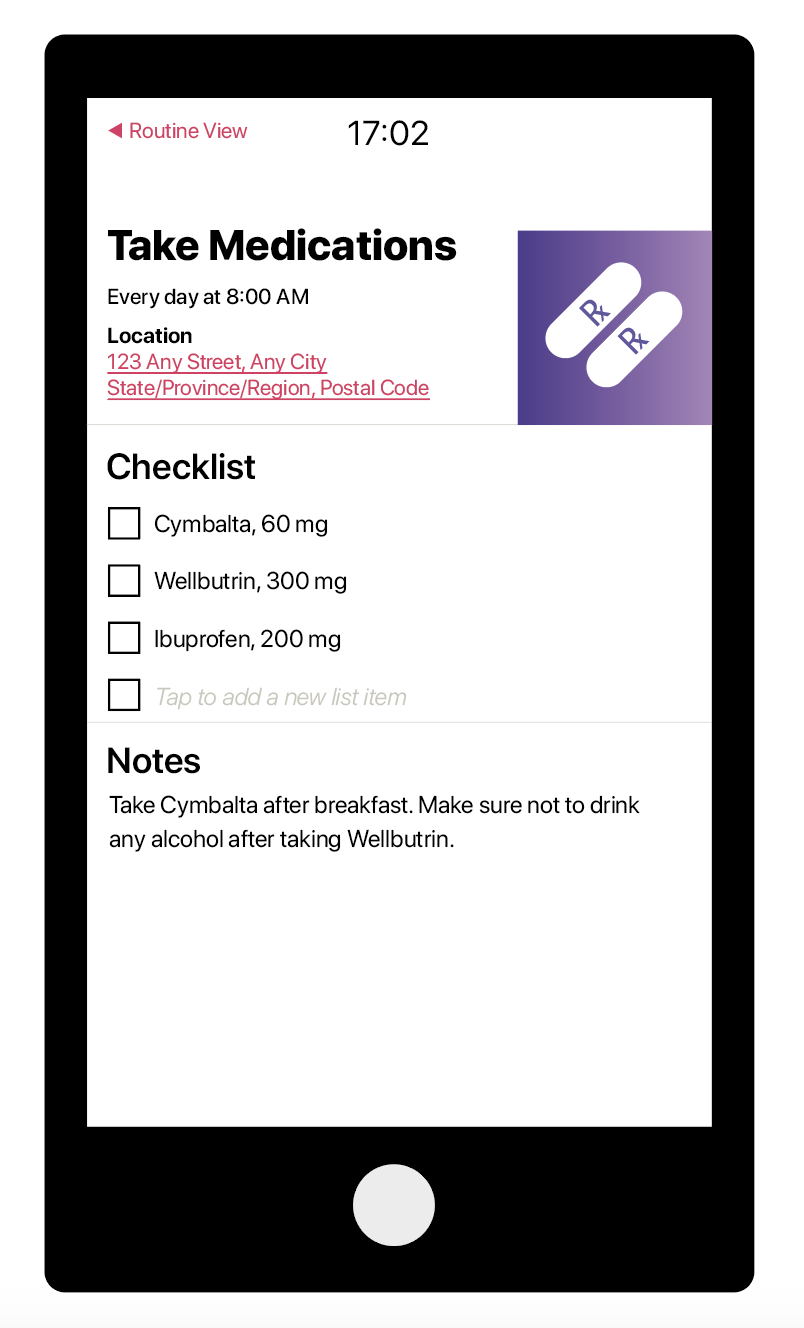 When you click on an activity on the Calendar or Routine View, you can get a more detailed view of what you are supposed to do for a given activity. For example, in the following mockup, the sample shows 'Take Medications' as a sample activity. You can add a location, use a checklist to break down the steps needed to complete an activity, and take freeform notes to add additional information about an activity. Freeform notes support URLs - if you need to insert a link to a recipe, agency website, homework assignment or other website, TimeJuggler will make the link active and open the site in Safari.
Prompting Options
Geo-linked reminders that set off if you are in a certain location (for example, if you walk into your pharmacy, a reminder will go off to pick up your medications)
Notifications that pop up when an activity comes up, similar to the default functions in Apple Reminders/Calendar that hook into Apple's native notifications system
Other Features
Pick up dates using Apple's native tools, since users use different region formats and may want their date and time data displayed differently (Day Month Year v Month Day Year v Year Month Day; AM/PM v 24-hour or military time, for example); we don't want to force any kind of setting on people
Integration with Apple's default calendar
Importing Google and Microsoft calendars
Integration with NextBus and other data for transit systems if an activity involves using public transit