Many people are saying that "Jewish Klansman" Lynchin' Louis Brandeis, the former Supreme Court "Justice" of the United States, was a segregationist who voted time again against civil rights.
But everyone knows I have a great relationship with the Blacks, Hispanics, Jews, disabled people, and Muslims—a tremendous relationship, even—especially Omarosa Manigault-Stallworth, Herman Cain, Clarence Thomas, Ben Carson, Martin Luther King, Khizr Khan, Ghazala Khan, Rosa Parks, Sandy Ho, Rebecca Cokley, Patrick Cokley, Bayard Rustin, "Crazy Bernie" Sanders, Harriet Tubman, Sojourner Truth, Ruti Regan, Jennifer Msumba, Sam Crane, Emily Titon, Muhammad Ali, Rhoda Gibson, Lydia Brown, Shain Neumeier, Victoria Rodríguez-Roldan, Liz Weintraub, Keri Gray, Imani Barbarin, Timotheus Gordon, Noor Pervez, Haben Girma, Malcolm X, Eric Garcia, David Perry, T.L. Lewis, Booker T. Washington, W.E.B. Du Bois, Paul Robeson, James Baldwin, "Blind Tom" Wiggins, Morénike Giwa-Onaiwu, Gloria Anzaldúa, César Chávez, Barack Obama, Michelle Obama, Ayanna Pressley, Rashida Tlaib, A.O.C., Frederick Douglass (who's doing a lot of great things, I hear), and the owner of this very blog, who's a disabled Black Hispanic Jew with a Muslim uncle. (I'm so good that I even have relationships with DEAD people, especially the ones who were segregated from us by people like George Wallace, who is a complete and total shithole, let me tell you. I'm even talking to my Democrat friends because I have a great relationship with everybody, believe me, O.K.?) I know the best people! I make the best apologies, let me tell you.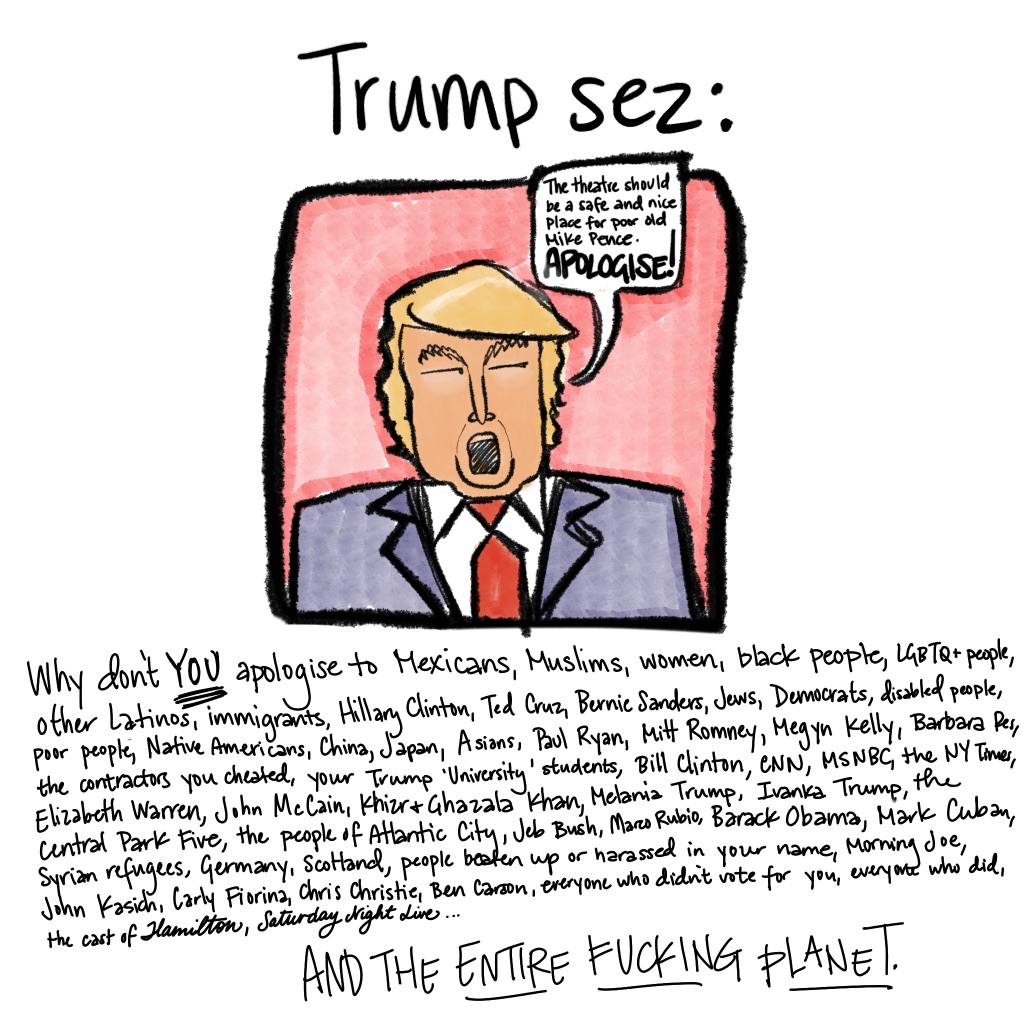 Donald J. Trump withstood the onslaught of the establishment yet again. Lynchin' Lou Brandeis had Segregatin' Woodrow Wilson, many conservative commentators, and the entire Dixiecrat party apparatus behind him—but this Trojan horse is no match for DONALD J. TRUMP.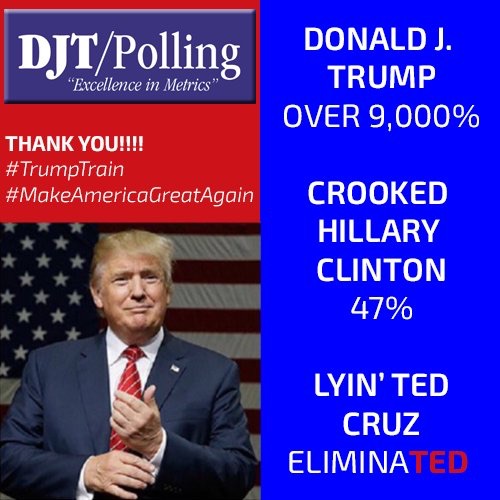 A new poll came out, saying that the top replacement for Lightweight Choker Lynchin' Louis Brandeis (who is a complete and total fraud, let me tell you) was DONALD J. TRUMP. I won, by a lot! (Not "alot." Even I know that's two words, and I almost failed the third grade!) As the presumptuous nominee, I have many plans to make "Brandeis"—now TRUMP® UNIVERSITY®—great again! I'm a true prophet. After all, after I was duly elected YOUR FAVORITE PRESIDENT™, I said that I was going to bring back Trump® University®. After all, I NEVER settle.

Of course, I have a lot of great plans for the new and improved Trump University, let me tell you.
Donald J. Trump is calling for a complete and total shutdown on segregationists putting their names on colleges. I may have called countries in Africa and the Caribbean "shithole countries," but even I disavowed the Ku Klux Klan and the protesters marching in my name last year.
We're gonna build up our psychology department. I know a great guy, Paul McHugh, who knows how to deal with the Galactic Transsexual Empire (he's got some real galaxy-brain takes, O.K.?) and the new wave of magical multiples (A.K.A. "dissociative identity disorder") with their names, worlds, powers, maps, parents, birthdates, and Japanese action figures living in their head. (Crazy stuff, let me tell you.) We're gonna replace them with good neuropsychologists who use the gold standard: the Wechsler Adult Intelligence Scale! My buddy Roy Cohn is a fan, let me tell you, O.K.? For the rest of us, there's the Wechsler Test of Adult Reading. I got 117 on that, which is almost genius! After all, it only goes up to 119, just like Psalm 119. Maybe that test is for Christians. I have a great relationship with the Christians. After all, I'm a Christian myself, a rock-ribbed Presbyterian. I read Two Corinthians every night.
I don't know anything about David Duke, but I've got my own selection for faculty: ME! After all, I know more than the generals do. I'm tough and smart, O.K.? I'm a very stable genius, very intelligent, let me tell you. I can be the faculty and staff. After all, I'm Donald J. Trump, and I have great genes. Well, maybe no. We can also invite Ivanka to run the International Business School. She makes a lot of money dealing against China, let me tell you. And I have a great relationship with the Jews, too. That's why I'm going to invite Stephen Miller and Jared Kushner to join the faculty senate.
We'll build up the linguistics department and make sure it's descriptive, okay? They'll describe how great I am all the time and conduct analyses of my great grammar, let me tell you. I have the best grammar. I know words. I have the best words. That's why they call me Trump, since my grammar trumps all the rest, and you can hear the trumpet every time you hear my name. (Or is it a drumbeat? The entomologists haven't decided where my name comes from, but it's not Drumpf anymore, let me tell you, no matter what Dopey John Oliver says.) That's why I'm a very stable genius. If you don't agree with me, that's very unfair. Prescriptivism? That's for the Failing New York Times and the Amazon Washington Post, which are ALWAYS against YOUR FAVORITE DULY-ELECTED "UNIVERSITY PRESIDENT™," DONALD J. TRUMP! (They love me in Alabama, which was right to vote for me. Come on, I'm an improvement over Lil' Georgie Wallace, O.K.? I'll rig it good.)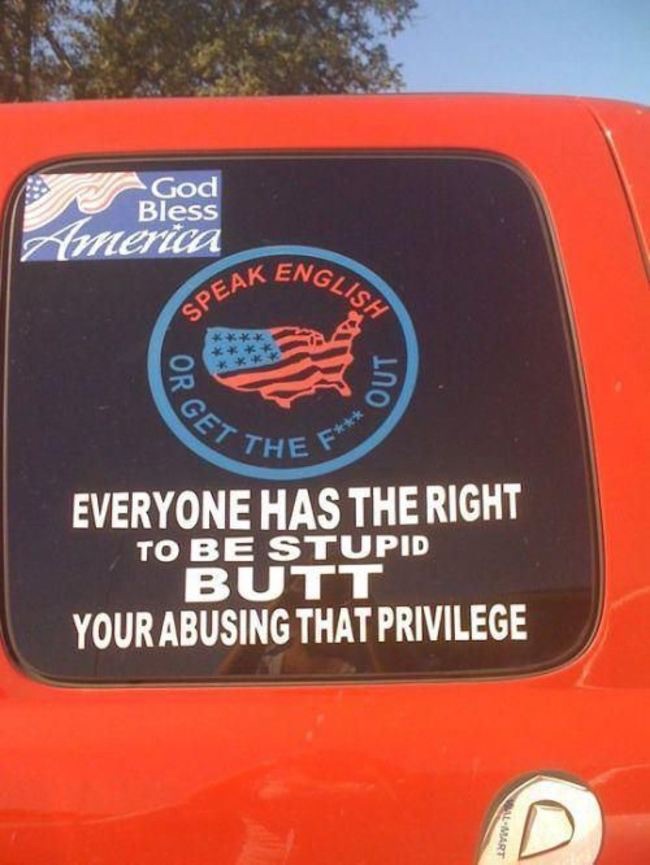 If they keep Lynchin' Lou's name on this school, Brandeis University Press might republish that old Nazi classic, Neues Volk. Hitler got his ideas from the segregationists! I'm not even a reading man, and I know a book came out a few years back called Hitler's American Model! I prefer my version: "Steuerzahler Zuerst," or Taxpayers First! I make the best budgets, lemme tell you. Let's talk financials.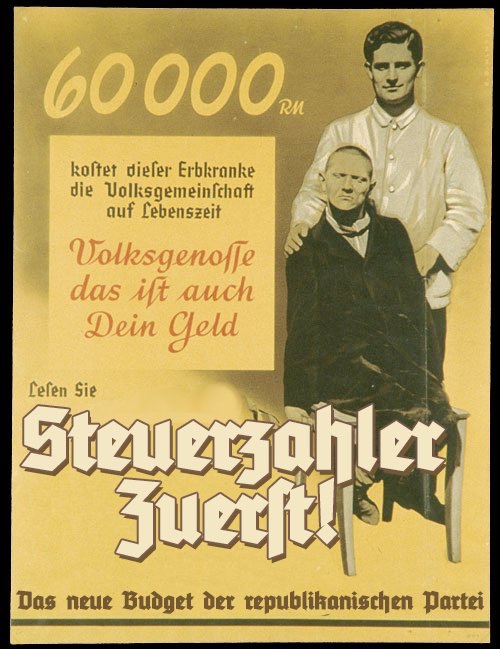 Of course, the university president will be ME, YOUR FAVORITE PRESIDENT™, DONALD J. TRUMP! Stop the steal! Get rid of Ron Liebowitz—a guy I don't even know, maybe he's a good person, I don't know, I'll have to look into it—and replace him with me! Forget about Lyin' Joe Bidet. The REAL problem is Crooked Lynchin' Louis Brandeis, who may be dead, but he's a loser anyway.
If you let me run this college I'm gonna call up my buddy Vladimir in Russia and ask him politely to stop the war in the Ukraine. Let them keep their country. Russia's great enough already, O.K.? I like war, in a certain kind of way, but even I'm sick of this Russia, Russia, Russia business. Maybe if Vladimir listens to me, he can get me those 33,000 missing emails that Crooked Hillary didn't release back in 2016! (Hell, I'd take Crooked Hillary over Lynchin' Lou! At least she's not into that Klan shit! The real superpredator is Lynchin' Louis Brandeis, who is a complete and total fraud on the American public!)
We'll get special Trump–Pence cement mixers to do work at the physical plant!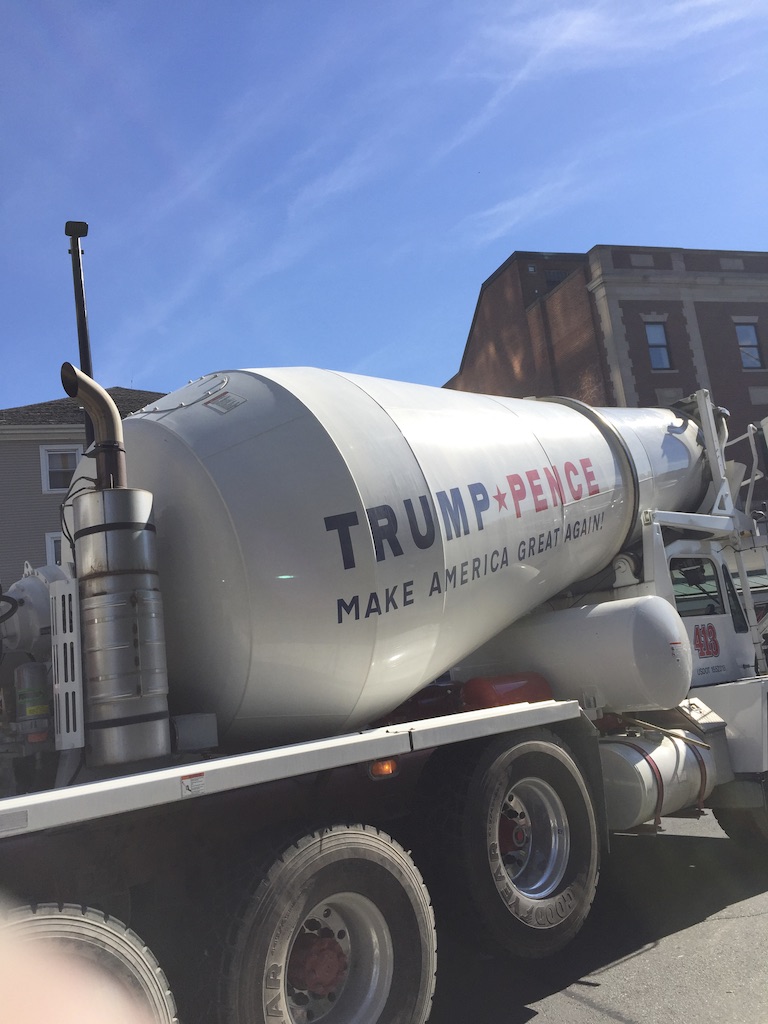 On Cinco De Mayo, I will make an official proclamation that I love Hispanics! I'll even bring out my special taco bowls.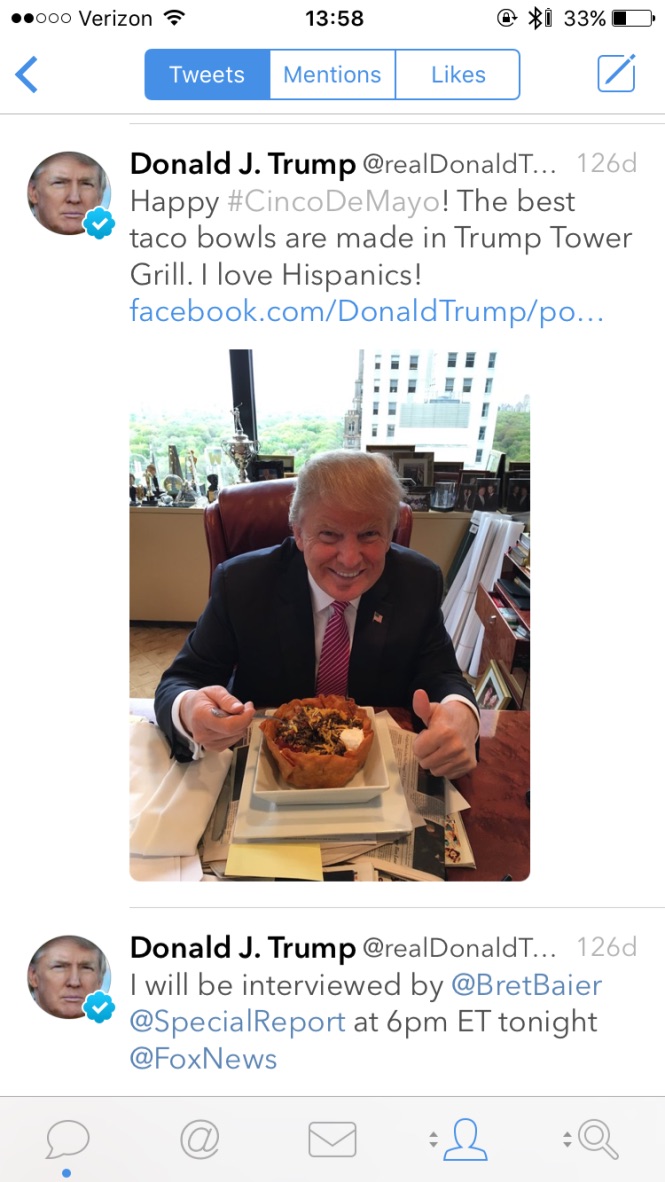 I have a great relationship with everyone, even the Muslims. Maybe I could sit down with the Christians, Muslims, and Jews and set up a peace accord. I was even able to start talking to Kim Jong Un, so if I can talk to him, I can talk to the people in Israel and Palestine. Many people are saying that we should set up a new secular state and call it the State of Jerusalem. It's gonna be great, lemme tell you, O.K.? It'll be all right to be a Jew there. (See, even I know that "all right" is two separate words, and Lyin' Lynchin' Racist Louis "Jewish Klansman" Brandeis, who is a total hoax on the American public, didn't know that. Sad! (Seriously? Jewish Klansman doesn't even sound catchy!) He's a loser who can't spell because he thinks Alabama was right for lynching and segregating Black people. And I have a TREMENDOUS relationship with the Blacks!) It'll be all right to be a Muslim. And yeah, it'll be O.K. to be a Christian or even one of those Baha Men. It'll be fine as long as you're nice, because I'm a strong believer in religion. (Problem with Lynchin' Louis was that he wasn't nice. And there was collusion and obstruction—by keeping Black people and Muslims down through segregation. VERY SAD!)

We're gonna build a great, great wall around the university to keep the segregationists out. After all, if they like segregation so much, we're gonna segregate them from the greatest university in the country, even the world! You can get a real world class college education at Trump University. We're gonna be bigger than Harvard, Oxford, Oral Roberts, Yale, Princeton, Eaton, Davis, Berkeley, AND U.T. Austin PUT TOGETHER! (Seriously, it's gonna be huge. Nobody makes colleges better than Donald J. Trump.)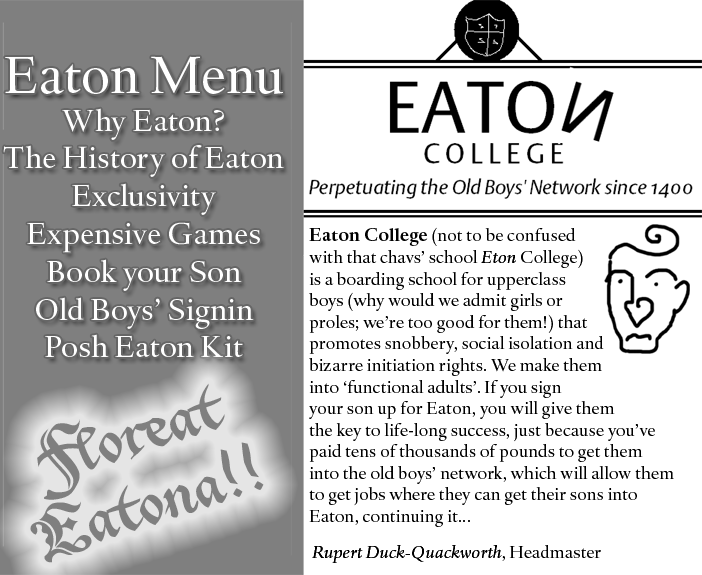 See, Eaton isn't even a real college! It's a high school (not a "highschool," which is probably where Lynchin' Lou went)! And it's in the U.K. (Britain), so you know it's no good. But Trump University will be great.
We will teach real American English at Trump University. None of this British shit, because the U.K. is a shithole country. Every country other than America is a shithole country, lemme tell you. After the Supreme Court made the Loving v. Virginia and Brown v. Board rulings (after Lynchin' Louis died, of course), this country stopped being a shithole, because we got rid of the segregationists.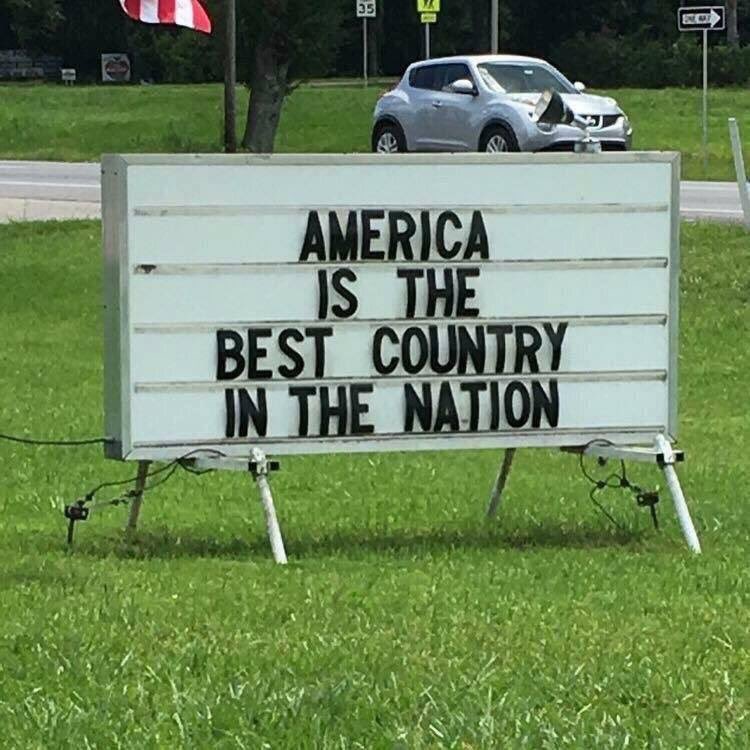 America is the best Country in the Nation, see?
We're gonna get back to basics and teach readin', ritin', and 'rithmetic. People don't even remember the order of operations anymore. How can you have forgotten "Please Excuse My Dear Aunt Sally"? Or that all right is two separate words? Or that there are no such words as aswell, eachother, ofcourse, everytime, infact, incase, or infront? And at least I know that "at least" is two separate words, okay? Ah, well. Jesus loves you "anyways," even if you can't spell. (I can spell with the best of them, and my IQ is 160—I can confirm that on the Wechsler IQ test. Of course it was a Wechsler, since it's the "gold standard," if you know what I mean. Ron Paul has a tremendous relationship with the IQ people, if you know what I mean.)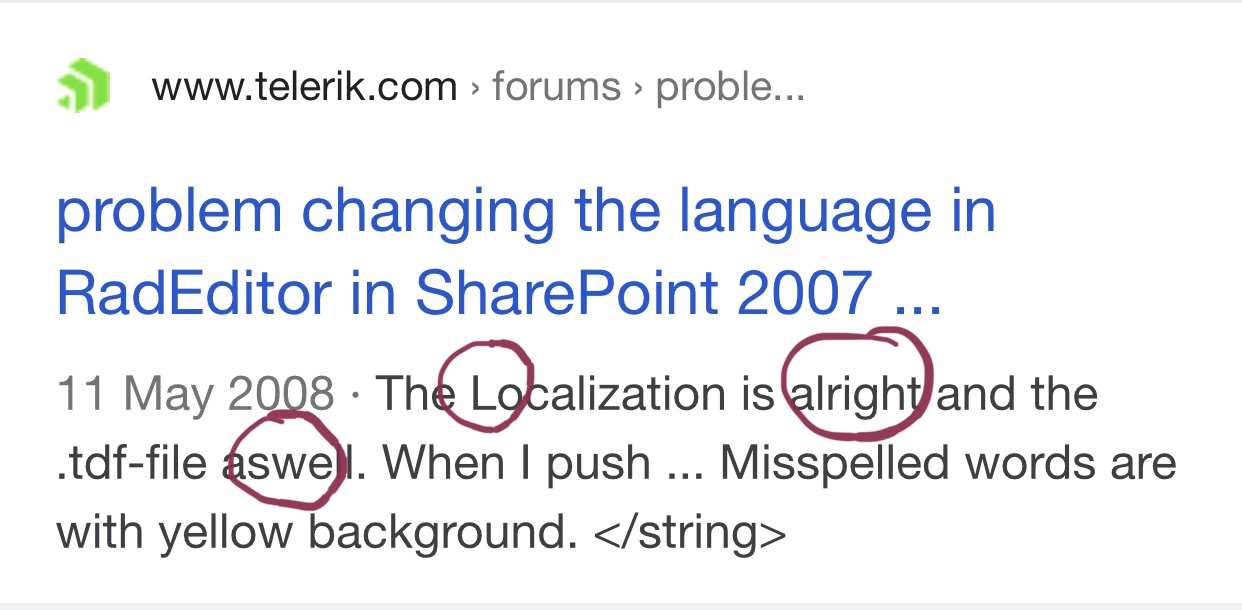 There is no such word as aswell! I'm not kidding. And "alright"? That's a racist dogwhistle. Many well-known lexicographers have been in communication with me. I hear that it's code for "I'll rig it," and it's a reference to lynching. Or it means "Alabama was right." They come up with funny things in Alabama, you know. Most of the time, it just means you can't spell (maybe that's why we keep seeing it at Brandeis—but who knows?), but ignorance of the law is no excuse. But even Alabama voted against Roy Moore, the guy who worships the Ten Commandments without actually following them. Come on. Pick me, not Roy Moore or George Wallace, or Lynchin' Lou Brandeis, who was a total hoax on the Jewish public. That's right, Lynchin' Lou is "alright." That's why a lot of white Jews at Brandeis seem constitutionally unable to spell "all right" the standard way. SAD! You're a college! And yeah, Manischewitz matzos and wine taste bad, but they're still kosher, and it's not O.K. to mock kosher, since that means "good" and "acceptable." If you mock goodness, it's BAD! Segregation is all rigged to keep white Gentiles (yeah, they don't like Jews, not even Lynchin' Lou, especially his skinhead "friends" in the U.K.) in power, and I have a great relationship with the Blacks! Also, Al Wright? Sounds like a used-car salesman!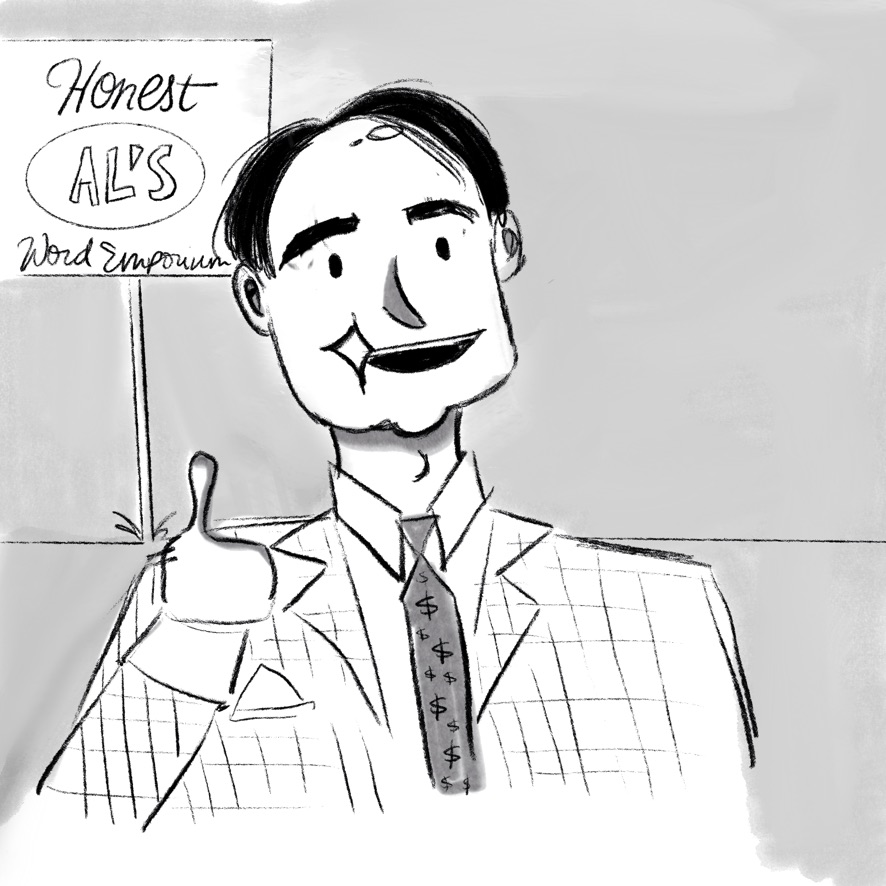 (Serious talk: "Alright" is a racist and antisemitic slur. It's not cutesy slang. It's a slur against Black people and Jews, possibly invented several times over by segregationists, Klansmen, antisemites, and other bigots who wanted to veil their racism and antisemitism—a kind of linguistic virus that started spreading from several directions. That's why it's so common in punk rock—they like to offend people on purpose. It's why descriptive linguists love defending it. Since descriptivists don't care about others' feelings, they will come up with historical arguments to defend language that offends women, people of colour, Jews, Muslims, and other marginalised people.

The "A-word" is mostly racist in the US and antisemitic in the UK, but it's offensive either way. That's why I've been hammering on it for two years—I've been working with some of the country's top lexicographers, who know where words come from and how people use them. That's why, even though this "one-word travesty" appears frequently outside edited writing, dictionaries insist on spelling it as two separate words regardless. Because it's all right to be Black. It's all right to be a Black Jew. And it's NOT all right to be a shitty segregationist. All right is two words. No exceptions. —The Management)
We're gonna beef up the German-education department. (Did you know that Wechsler is German for "money changer"? Is that why they made up the Wechsler test, to see who'd be the best accountants? I like it when guys with funny hats count my money. After all, I'm from Queens. And my father gave me a small loan of a million dollars, so I like the Wechslers—or as the fancy ones call themselves, Wexlers.)
And for higher mathematics, we're gonna talk a lot about numbers, since I love numbers. Many people are saying I'm the best with numbers. I know the best numbers, the ones that the radical clerical cabals don't even teach you in the madrassas.
We're gonna add an Ayn Rand Research Institute. The libertarians like me, and I like the libertarians. That's why so many of them voted for me even though they support "small government." I have no problem with the size of my government, believe me. I have no problem there.
I'm not much of a reader, but I'm still gonna assign my entire literary "corpus" to every student. We can start with my personal Bible—The Art of the Deal, written by Tony Schwartz and Donald J. Trump. (But mostly me, of course.)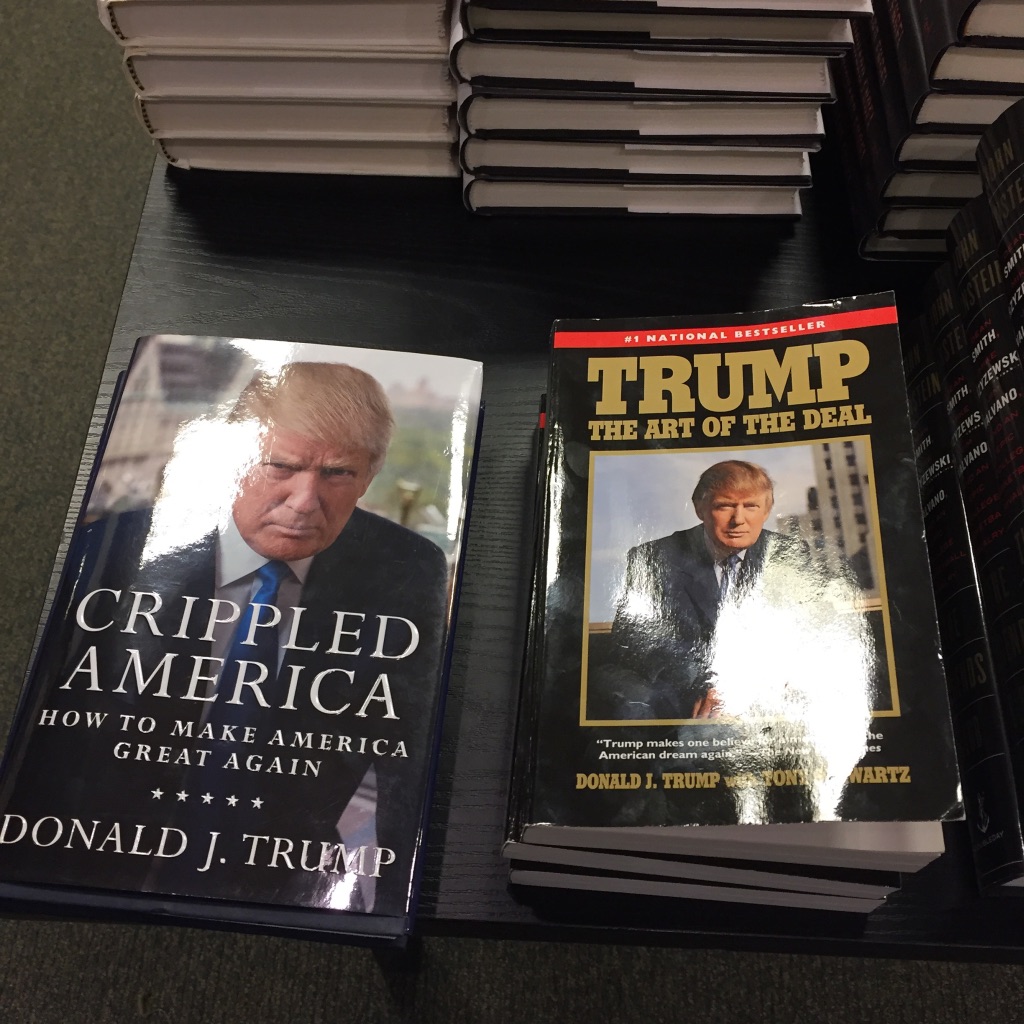 We're even gonna rename the language AMERICAN, cuz we're patriotic Americans who love Noah Webster (peace be upon him), who's almost right up there with Mohammad! But not quite, because I have a great relationship with the Muslims. A tremendous religion! In fact, we're gonna set up a new Center for Islamic Studies, with a specific focus on the Islamicate world before guys like Excruciating Tom Torquemada took over. We've got a great Muslim family over there who can help us get that started. Who needs the Islamic State when we've got great Muslims right here in the United States?
Replace that Usdan cafeteria with something classier: the Trump Tower Grill™, featuring the revival of the World's Greatest Steaks™, TRUMP STEAKS®! (Maybe I'll start an entire chain, the United Steaks of America! I've got a lot of key steak-holders on retainer, let me tell you. Maybe I'll even bring Lyin' Ted Cruz on board, since he'd look good wielding a stake against nonbelievers.)
I'll fill my cabinet with villains. Skeletor, Darth Vader, Maleficent, Daleks, and the Joker are all an improvement over Lynchin' Lou! After all, they're not real, right?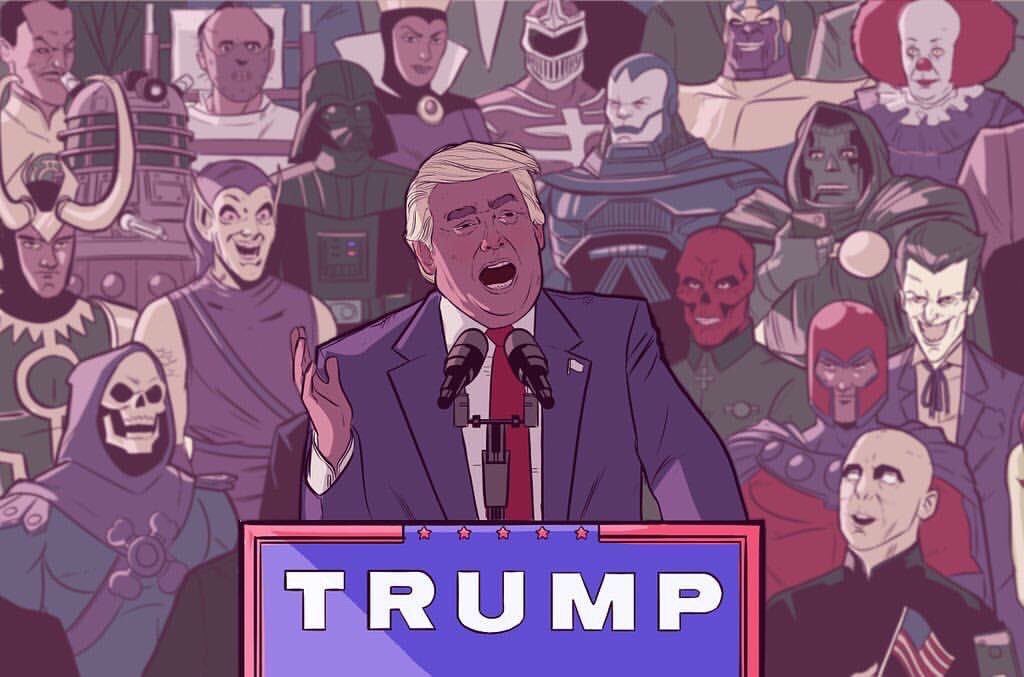 "White Only"? Nah, we like Americans of all colors. Let's do "Americans Only" instead! That's an improvement over what Lynchin', Lyin', Cheatin' Racist Lou did.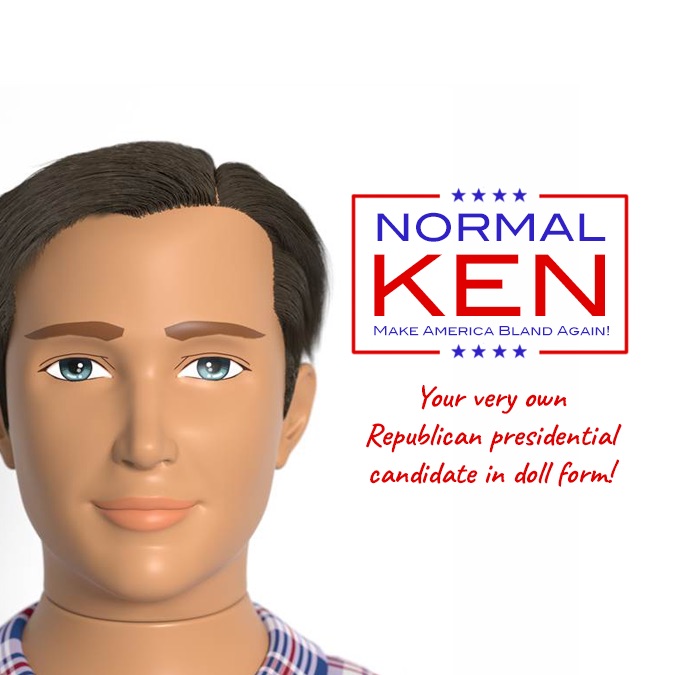 That's what Lynchin' Lou would've wanted. But I know better than that, because I've got a tremendous relationship with everybody, even Democrat Justice Ruth Bader "R.G.B." Ginsburg. She may have made a few bad rulings, but she's still way better than Lynchin' Lou! I'd rather go to CROOKED HILLARY CLINTON University if I weren't going to take it over myself, I can tell you that, folks.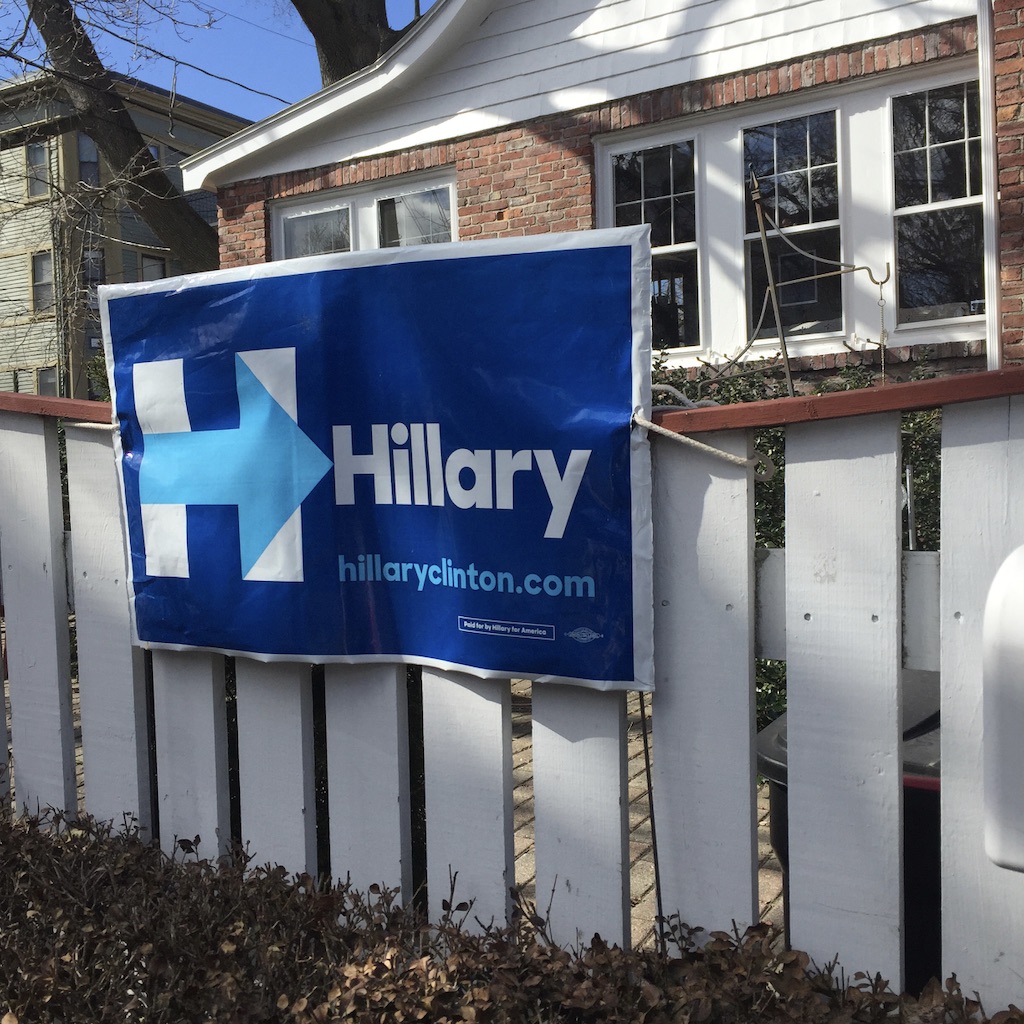 We will ALWAYS capitalize the word "Country" at Trump University. Lynchin' Lou, on the other hand, is a country hick who just capitalizes the word Lynch because he was a racist shithead.
I have a great relationship with the Jews. A little bird told me that having a college named after Lynchin' Lou Brandeis, whose ideas helped inspire the Nazi Party, is like serving ham at a kosher deli. Why would you put a hechsher on THAT? SAD!!!!!
We're going to spell HealthCare with a capital C in the middle because I like capital C for Capitalism, Country, and Care! CCC is much better than KKK (or Council of "Conservative" Citizens). I'm a Conservative, but those guys are Klansmen!
If I'm less of an embarrassment than Lynchin' Louis "KKK" Brandeis, imagine how many people are going to want to hand in their diplomas to have them reprinted with "Proud Alumnus of Donald J. Trump University College." That's the best present I could ever get after I had the White House very unfairly stolen from me! (If you don't listen to this, I hear that the neo-Nazis are going to try to make Hitler University again, and even the worst Jewish segregationists aren't gonna stand for THAT!)
Seriously, even Nigel "Mr. Brexit" Farage is better than that guy, let me tell you.

And I'm going to say this loud and clear for the people in the back: Lyin' Crooked Loser Lynchin' Louis Brandeis was a segregationist. Very sad! And it will be very sad if the university that bears his name doesn't get its act together. He may be James Crow, Esq., but it's the same old Jim Crow that the Blacks—who I have a tremendous relationship with, and I don't mean Don Black, either—know and hate. Take that invisible "White Only" sign off. Pull off that white hood, or they're gonna make another movie called "Jewish Klansman" next. I hear Spike Lee is casting for the movie. Do the all-right thing, not the wrong thing.
MAKE BRANDEIS UNIVERSITY GREAT AGAIN! But you can only do that if you take Lynchin' Loser Lou's name off. Segregation then, segregation yesterday, segregation NEVER AGAIN! Or our relationship with the Federal Government, which issues grants to this university, will be at an all-time and very dangerous low!
If Ambivalent Ron Liebowitz, who presides over a college who has the name of Lynchin' Lou Brandeis on it, doesn't do his job, he's gonna hear the best words ever: YOU'RE FIRED!

Serious talk, though: it's time to make things all right, both for me and everyone else who has suffered from racial and religious discrimination at Brandeis. No one is above the law, not even a dead segregationist judge. All right is two words—and it's all right to practise whatever religion you want as long as you do the best you can with what you have. Black lives matter because Black people matter. And in a country built on stolen land, it's evil to insult immigrants who've worked hard to come here. Even if people fuck up, you love them anyway—but it's still their responsibility to make amends. It's time for Brandeis University to make reparations. Georgetown has already set that plan in motion.
To President Liebowitz: Let's talk about next steps, preferably in person. Since I'm an alumnus and former staff member, you know how to reach me. After all, I'm always getting magazines from Heller and Brandeis.
And to everyone else who's supported me throughout my journey, whether I've mentioned you or not: To life. L'chaim! I love you all.
—Finn M. Gardiner, 11 May 2022
(P.S. I feel comfortable sharing this now, but my Hebrew name is Moishe.)